Check out the mega deals on fruits, vegetables, grocery, cookware, household products, garments, footwear etc at Al Manama outlets across Dubai. Offer ends on 11th October 2017. View leaflet below for more details.

Read Terms & Conditions
Offer subject to availability.
Purchase limits may apply on selected products.
Promotion may be withdrawn any time without notice.
Terms & conditions of sale might change without prior notice.
We are not responsible for any promotion related matters and the website is only for reference and information.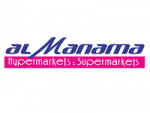 More Al Manama deals, store timings and contact information
Al Manama Locations