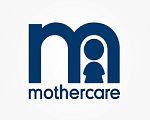 More on Mothercare
Mothercare is the premier global retailer in the mother, baby and children's market. The brand has grown from its origins in 1960s Britain into a successful global multi-channel retailer operating in over … see more..
Terms & Conditions
Offer subject to availability.
Purchase limits may apply on selected products.
Promotion may be withdrawn any time without notice.
Terms & conditions of sale might change without prior notice.
We are not responsible for any promotion related matters and the website is only for reference and information.