DSF sale at United Furniture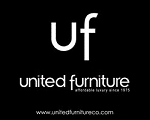 More on United Furniture
Established in 1975, United Furniture has become one among the leading furniture and furnishings brand in the UAE. The brand is known for its distinctive drift toward contemporary and classic collections, meeting … see more..
Similar Offers
See all Home & Garden Stores Deals
Terms & Conditions
Offer subject to availability.
Purchase limits may apply on selected products.
Promotion may be withdrawn any time without notice.
Terms & conditions of sale might change without prior notice.
We are not responsible for any promotion related matters and the website is only for reference and information.