Casio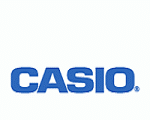 Casio is a Japanese multinational consumer electronics and commercial electronics manufacturing company headquartered in Shibuya, Tokyo, Japan. Its products include calculators, mobile phones, digital cameras, electronic musical instruments, and analogue and digital watches.
Locations not available yet
Offers not available yet
Photos not available yet
Oops! No offers available at the moment. You may check for the recent deals you have missed in the in the past deals section below. Sign up for a deal alert below, and be the first to be informed about latest deals and updates...
Check Similar Stores