Oops! No offers available at the moment. You may check for the recent deals you have missed in the in the past deals section below. Sign up for a deal alert below, and be the first to be informed about latest deals and updates...
About Geepas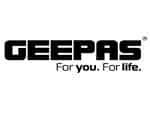 GEEPAS stands as the world's largest Electronics brand portfolio and the only company which covers multiple segments like Entertainment Products, Home Appliances, Kitchen Appliances, Personal Gadgets and lighting products.
Geepas Locations in Dubai, UAE
Outlet Address
Opening Hours
Telephone
Map

Geepas, Jebel Ali,

Techno Park,

Dubai,

UAE

800-433727
Offers not available yet
Photos not available yet
Check Similar Stores
Deals you may have missed
Geepas Biggest Warehouse Clearance Sale begins on 8th December until 9th December 2017 with up to 90% OFF! Catch the free shuttle service from Ibn Battuta Mall Bus Station and don't miss … see more..