JAC In-store Offers
Another reason to buy a JAC this year. Check out these amazing offers on JAC range of SUV's and MPV's starting from AED 31,395. Plus avail FREE service, registration, insurance and Llumar … see more..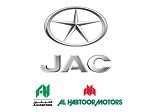 About JAC
Jianghuai Automobile Co Ltd. or JAC is the no.1 commercial vehicle brand in China, selling passenger and commercial vehicles to over 100 countries worldwide. JAC has been a comprehensive automaker since the past 50 years with full-line independent brand vehicles in China, including light, medium and heavy-duty trucks, MPV, SUV, sedan, bus chassis, buses, engineering machinery, engines, gearboxes and other key components.
JAC Locations in Dubai, UAE
Outlet Address
Opening Hours
Telephone
Map

JAC, Al Habtoor Motors,

Al Ittihad Road,

Dubai,

UAE

08:00 - 20:00
+971 4 292 9300
Offers not available yet
Photos not available yet
Check Similar Stores
Deals you may have missed
JAC Drive Away Ramadan Promotion is here! Check out these amazing offers for J6, J4 and for The All New S3 1.6L. Plus get service up to 30,000 Kms, Registration and 5 … see more..