Oops! No offers available at the moment. You may check for the recent deals you have missed in the in the past deals section below. Sign up for a deal alert below, and be the first to be informed about latest deals and updates...
About Tyche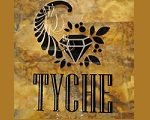 Tyche, a very revered deity in antiquity with great veneration representing a symbol of luck wearing a mural crown on the head often worshiped as the guardian of good destiny and prosperity. Similarly, Tyche believes in adornment with beautiful jewelry. Beautiful jewelry is every woman's first love. It mesmerizes her with its sheer beauty and brilliance. Tyche fulfills your desire to look your beautiful best by creating heartwarming style statements in gold and often embellished with rich gemstones, dazzling diamonds and splendid pearls. Armed with a deep understanding of their customers' taste and by anticipating the ever-changing trends, Tyche designs refreshingly new designs ensuring high standards and attention to detail. Every jewelry from Tyche is the pinnacle of enduring beauty and a tribute to womanhood
Tyche Locations in Dubai, UAE
Outlet Address
Opening Hours
Telephone
Map

Tyche, Burjuman Centre,

Shop no 17, 2nd floor,

Dubai,

UAE

10:00 - 22:00
+971 4 353 1444
Offers not available yet
Photos not available yet
Check Similar Stores
Deals you may have missed
Get up to 60% off on jewellery at Tyche store located at Burjuman.