Oops! No offers available at the moment. You may check for the recent deals you have missed in the in the past deals section below. Sign up for a deal alert below, and be the first to be informed about latest deals and updates...
About Xti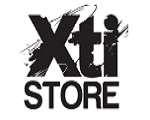 Xti Store, a Danube Fashions franchise, offers youthful fashion footwear and accessories for Ladies, Men's and Kids. Started in the year 2016. Housing a plethora of fresh, in-trend shoes and accessories, Xti offers premium quality and affordability to customers. In just a short span, Xti has established itself as a go-to destination for any fashion lover and serves as the perfect stop to buy for any occasion
| | |
| --- | --- |
| Type | Footwear |
| Telephone | +971 4 3512093 |
| Price Range | AED 50 onwards |
| Website | http://- |
Xti Locations in Dubai, UAE
Outlet Address
Opening Hours
Telephone
Map

Xti, Burjuman Centre,

Level 1,

Dubai,

UAE

10:00 - 22:00
+971 4 3512093
Offers not available yet
Photos not available yet
Check Similar Stores
Deals you may have missed
Visit Xti store at Burjuman and check out the buy 1 get 2 Free offer on fashion footwear and shoes.
Avail 30% to 50% discounts on fresh, in-trend shoes and accessories at Xti stores across Dubai. This Spanish brand of footwear is among the most prominent manufacturers of men's and women's shoes known to … see more..
Burjuman

City Centre Shindagha