Discover fun times, huge discounts and Ramadan offers on many adventures and activities Dubai has to offer!
1. Dubai Bowling Center (Up to 42% Off)
The team at Dubai Bowling Centre aim to provide a wide range of entertainment opportunities for the whole family. Active types can jump their way through a network of interconnected trampolines, while bowling fans can polish their skills with a group of friends.
Price : AED 30 onwards
Location :Al Quoz 1, Meydan Rd
2. Smash at The Smash Room (Up to 41% Off)
The team at The Smash Room provide glass items and electronic devices to smash, shatter, break, stomp and tear, from jars to TV sets. Open until late, the venue welcomes party animals looking to breathe new air into their nights out, and caters for frustrated Dubaians whose need of smashing is dire.
Price : AED 59 onwards
Location :Al Quoz 1, Meydan Rd
3. Ramadan Chill Out ice lounge entry
Dubai's Chillout ice lounge is a haven for guests to enjoy a cooler way to lounge around. The Middle East's first sub-zero lounge is decorated with ice sculptures, unique seating options and illuminated interiors.
Price : AED 25 for child and AED 50 for adult
Location :Dubai Times Square Center, Quoz
4. Experience the dolphin-like, jumping and speedy Seabreacher watercraft!
Experience the dolphin-like, jumping and speedy Seabreacher watercraft! Banana boat ride and donut experience also available from AED 149 per person.
Price : AED 149 onwards
Location : Valid at Jumeirah and Fujairah branches
5. Build-a-Bear Party Package for Six Kids, Nine Locations (Up to 32% Off)
Build-a-Bear runs workshops across the world offering little ones the chance to create their own huggable stuffed toy. Their branches can be found in Dubai, Abu Dhabi, Kuwait, Bahrain and Qatar. They also host all kind of parties and school field trips.
Price : Fun Party Packages from AED 349
Location : Dubai Festival City Mall, Deira City Center, The Dubai Mall, Mercato Mall, Mall of the Emirates, Dubai Marina Mall
6. 21 Games for Two-Hours for Up to Six at TEPfactor Dubai (Up to 43% Off)
Grand Opening on 30th May 2018.
TEPfactor brings an all-encompassing adventure experience to JBR The Walk. A series of varied obstacles await adventurers as they make their way through the mysterious cave and take on each of the 21 challenges. Teams of two to six individuals will work together, using each other's strengths and accommodating for weakness, in order to emerge victorious. The adrenaline-packed adventure is the ultimate bonding experience with friends or as an exciting corporate getaway that brings people closer through working together.
Price : From AED 99 onwards
Location :Bahar Plaza, JBR
7. Ramadan special offer! Enjoy the beautiful skyline of Marina and JBR with a Parasailing ride (Up to 50% OFF)
Enjoy the beautiful skyline of Marina and JBR with a Parasailing ride by Sea Bird Water Sports for AED 225. You will be taken on a speedboat ride from Marina Bay to JBR beach to start the parasailing experience. Free cold drinking water and Life jackets will be provided.
Price : AED 225
8. Explore a world of exotic flora & fauna at The Green Planet. 45% OFF
The Green Planet is a bio-dome inviting visitors to explore our planet's fascinating flora and fauna through an immersive expedition into the tropics. Designed as an enclosed ecosystem, The Green Planet recreates the enchanting world of a tropical forest with over 3,000 plants and animals and the world's largest indoor man-made and life-sustaining tree
Price : One day admission for AED 55 per adult & AED 45 per child
Location : City Walk
9. 5- or 30-Minute Go-Karting Experience at Emirates Kart Zone
Emirates Kart Zone offers speed freaks the opportunity to challenge friends and the clock, at an adrenaline-fueled Formula 1-style circuit. They provide Honda powered European go-karts karts with double engines giving a total of 400cc, 13 horsepower. These mini racers are fuel powered and built for speed and tight cornering. The venue has a refreshment stall and changing room.
Price : From AED 89 onwards
Location : Oud Metha Street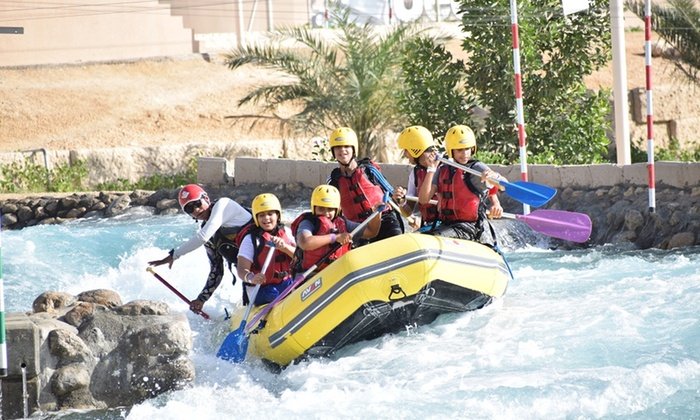 10. Full-Day Pool and Beach Access with Options at Wadi Adventure (Up to 40% Off)
Located in Al Ain, Wadi Adventure is a one-stop shop for an array of water-based activities. White water rafting, kayaking and surfing sessions are available alongside swimming and surfing pools, an air park and a giant swing.
Price : AED 39 onwards
Location : Al Ain