Discover a world of martial arts excellence in Dubai, with a diverse range of classes including Karate, Kickboxing, Kung Fu, Yoga, and Taekwondo. Elevate your physical fitness, self-defense skills, and inner balance through our comprehensive programs.
Champions Fitness Club
At Palm Jumeirah Golden Mile Galleria, Little Champions Fitness Club offers an array of indoor kids' fitness activities, including boxing, swimming, and wall climbing.
Location :  Mezzanine floor, Golden Mile Galleria 3, Palm Jumeirah. Get this deal on Groupon>>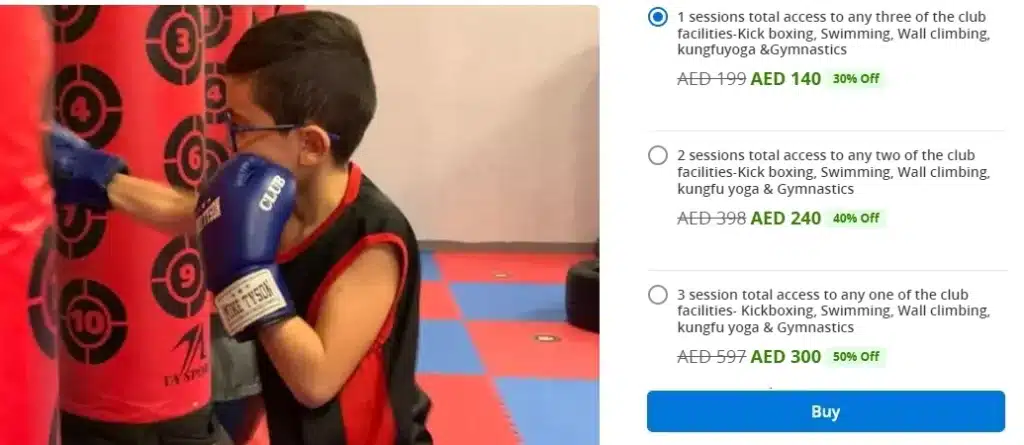 ---
FitRepublik
Located in Dubai Sports City, FitRepublik is your choice for various martial arts, including boxing and Muay Thai. Operating from 5:30 am to 11:00 pm, monthly fees start at AED 438 for adults. Contact them at +971-4-556-1800 for more details.
---
Shotokan Karate Club 
Join the esteemed Shotokan Karate Club, a branch of the Japan Karate Association, offering training for ages five and above in traditional Japanese Shotokan karate. With 11 certified instructors and over 2,000 alumni, the focus is not only on enhancing fighting skills but also fostering confidence and a positive attitude.
Locations : Al Rigga (+97-55-554-9452), Dubai Silicon Oasis (+971-55-565-8783), and Al Nahda (+971-52-956-4449). Timings vary, and there's a registration fee of AED 100 to join their training sessions.
---
Team Nogueira Dubai
Team Nogueira Dubai stands out as one of Dubai's premier karate classes, thanks to its top-notch facilities and dedicated instructors. As part of the Team Nogueira brand created by the renowned Nogueira brothers, famous UFC Fighters, the academy offers a range of martial arts classes, including Muay Thai, boxing, and judo
Location: 4th Street, Al Quoz 2 , Tel : +971-4-338-8967.
---
 Golden Eagle Martail Arts
Golden Eagle Martial Arts Club adheres to a motto of respect and love for every student while emphasizing the importance of dedication to achieving their goals. Offering various forms of martial arts such as Tai Chi, Qigong, and Kung Fu, the club was founded by Master John Duval and Master Frank Rao, both with ties to the Shaolin Temple Abbott Shi Yong Xin.
Location : Motor City, Tel : +971-50-695-5109