Discover the Painting and Fine Arts Institutes in Dubai to foster an interactive environment for aspiring artists to nurture their creativity and talents.
Watercolour Painting Online Course from Course Cloud
Explore the world of watercolors through this online course, where you'll master techniques for capturing light, water dynamics, and creating depth with shadows. The course is divided into six modules, covering everything from materials to a captivating class project. Get this deal on Groupon>>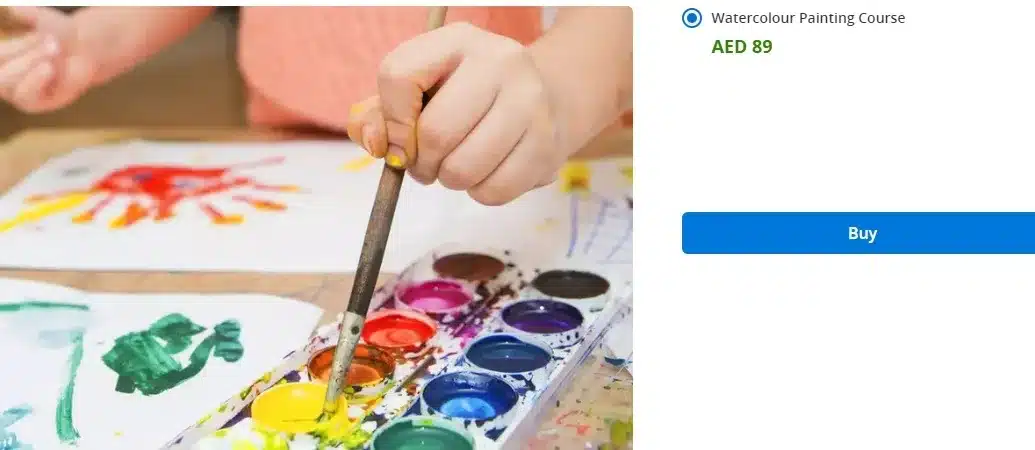 ---
Dubai International Art Centre (DIAC):
DIAC, a popular art institute in Dubai, offers diverse art courses. From abstract painting to Arabic Calligraphy, you can explore various art forms. DIAC is known for its interactive and enriching environment.
Location: Jumeirah | Timings: Vary | Tel: +971-4-344-4398
---
The Palette Art
Run by art enthusiast Ritwika Chaudhuri, The Palette Art offers drawing, sketching, and painting classes for all ages. Whether you're a beginner or an experienced artist, they have courses to suit your needs.
Location: Al Barsha 1 | Timings: 10:00 am – 08:00 pm (Closed on Fridays) | Tel: +971-4-553-9477
---
Lotus Art School
Learn the fundamentals of art at Lotus Art School. They cover art history, drawing techniques, and the effects of light and shadow. Courses focus on human anatomy and the use of watercolor or oil pastels to create stunning artwork.
Location: Dubai | Timings: 10:00 am – 06:00 pm (Closed on Fridays) | Tel: +971-4-391-1718
---
Art Kala Fine Arts
Art Kala Fine Arts provides classes in drawing, watercolor, oil painting, acrylic, and mural painting. Discover your artistic potential and enhance your skills at this institute.
Location: Dubai | Timings: 10:30 am to 07:00 pm (Friday and Saturday: 10:00 am to 07:30 pm, Closed on Mondays) | Tel: +971-4-238-0095
---
We Love Art
Passionate about art? Join We Love Art for their eight-week painting course. This accredited institute offers fundamental techniques and principles, allowing you to experiment with various painting styles. Plus, you'll receive a certificate upon completion.
Location: Intercontinental, Dubai Marina | Timings: 09:00 am to 05:00 pm (Closed on Saturdays and Sundays) | Tel: +971-4-56-769-1995