Explore the latest pizza offers in Dubai from popular chains like Pizza Hut, Papa John's, Debonairs, Papa Murphy's, and more. From classic Margherita to exotic BBQ chicken, experience a symphony of taste that caters to every palate. Enjoy these delicious slices with exclusive deals and discounts .
Pizza Hut
Get your box from AED 15 at Pizza Hut outlets. Click here to order online.
Also check out Limo pizza with 3 sides and 3 dips for AED 115 and Any three medium pizzas plus 1.25L Pepsi for AED 99 Offer. Visit our Pizza hut page for more deals>>
---
Pizza Express
Family Fiesta
Treat your little ones with loads of fun activities all for just AED 68! And for the parents, indulge in delectable package: 4 starters + 2 mains + 2 drinks, perfect for two at AED 179. It's a family feast that'll make everyone smile!
Express Lunch offer has got you covered with any one main course, one dessert and one soft drink starting from AED 52 only! Join us Mon-Fri from 12pm – 4pm.
---
Papa Johns
Enjoy Papa Johns all new PUBG combo offers.
On Fridays Buy 2 large pizzas and get another 2 for free! Order now by calling 600520001 or through our mobile application.
Also get 1 small 6″ pizza with a drink from AED 25, 1 medium 10″ pizza, 1 starter or salad and 2 drinks from AED 69, 1 large 13″ pizza, 1 starter or salad and 3 drinks from AED 89. Visit our Papa Johns page for more deals.
---
The Pizza Company
Spend up to AED 300 toward a variety of pizzas, pasta items, pizza puffs, chicken dishes, appetisers and drinks. Get this deal on Groupon>>.
Plus check out the Value meal- a pasta of your choice with garlic bread and a drink for AED 32, Two small pizzas and one soft drink for AED 29, Two medium pizzas and one soft drink for AED 49 and Two large pizzas and one soft drink for AED 59. Call 60050002 to place your order.
---
Shakey's Pizza
Super 8 meal is just what you need from Shakey's Pizza. From delectable appetizers to mouth-watering pizzas, every mouthful will leave you utterly delighted.
Two Large Pizzas, or Large Pizza with Family Pack of Chicken and Mojos for AED 56. Get this deal on Groupon>>
---
Domino's
Any 2 Medium Pizzas for AED 29 each.

Plus check out the Buy 2 Get 2 free offer on Saturdays and Meal for 4 (2 Med Pizzs, Bread Sticks, Potato Wedges and 2.25L Pepsi )for AED 89. Visit our Domino's page for more deals >>

---
Debonairs Pizza
5 Medium Pizzas, 2 Sides, 2.25L Drink for AED 199 at Debonairs Pizza.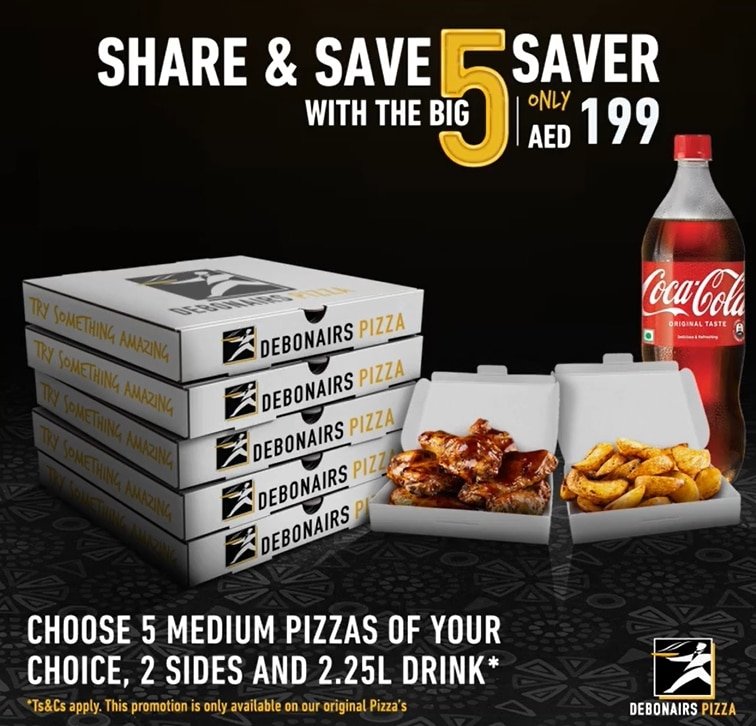 Plus check out the Terrific Tuesday's – Buy 1 Get 1 Free offer, 3 Large Pizzas for AED 139 and Any Large Pizza for AED 29 offers. Visit our Debonairs Pizza page for more deals>>
---
Papa Murphy's Pizza
Small Pizza for just 10 AED, Medium Pizza for 20 AED, Large Pizza for only 30 AED
Call 600 540440 to place your order
---
800 Pizza
Meal for One (1 Appetizer, 1 Pizza/Pasta, 1 Drink) for AED 59
Meal for Twp (1 Appetizer, 2 Pizza/Pasta, 2 Drink) for AED 109
Order now >>

---
Maestro Pizza
Buy the Piano Pizza for AED 79 at Maestro Pizza outlets.

Plus enjoy the Offer for 4 people with 2 delicious sides for AED 70, Large Pizzas for AED 30 and 3 Medium Pizzas , Potato Wedges and Cheesy Garlic bread for AED 90. Visit our Maestro Pizza page for more deals>>
---
Monday offer
Enjoy the Buy 1 get 1 free offer at Broccoli Pizza and Pasta. Valid for Large & Medium Pizza. Order online now at www.broccolidelivery. com
Russo's New York Pizzeria
Pizza with a choice of sizes and tastes, including appetizers, pastas, pizzas and main courses for AED 49. Get this deal on Groupon>>
---
Mamma Italia
Customers can enjoy Italian cuisine, including pizzas, pasta dishes and secondi piatti; three Dubai locations available. AED 60, AED 100 or AED 200 to spend on food and drinks. Get this deal on Groupon>>.
Pasta 2 Go
Pair your favorite pasta type with a delicious sauce, complemented by a refreshing soft drink. Whether it's for two or ten, enjoy a satisfying meal that caters to your cravings. or two at AED 42, for three at AED 62, for four at AED 84, and for six at AED 126.
Get this deal>>