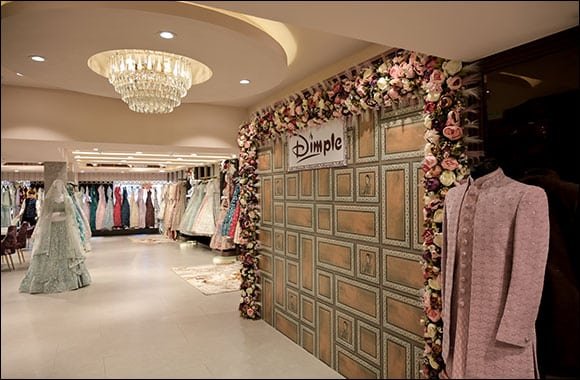 Leading Fashion store in UAE, Dimple Fashions, has opened its 13th store at Meena Bazar Bur Dubai. Dimple Fashion are specialized in Whole sale, Retail, Importing and Exporting various high quality Garments, Textiles and Ready-mades products such as: Bridal wear, Groom wear, Party wear, Readymade traditional dresses, Suits, Sarees and many more. They also cater Kids wear and Imitation jewellery.
Mr Prakash Gurnani, Founder of Dimple Fashion said "We started with Four Sales Executives and One Manager, and by the grace of god, Today we have 120 Sales Executives, 35 tailors and Ten Managers those who are working with us to give the high quality services to our valuable customers"
Dimple Fashion is based on the belief that client needs are the utmost important thing and we as a team are trying to fulfill all our customers desires. Today we feel glad to announce our new showroom in Meena Bazar, Bur Dubai which was only possible because of my customers and my team hard work," Gurnani added.
The brand was founded in 2005 and they opened their first outlet in Sharjah with the dream of serving to the apparel sector. More than 18 years of experience, Dimple fashion has become a breath of fresh air and a driving force for the industry with both its innovative perspective and quality policies. Since the first day of their establishment, they have interfuse all of their excitement into the ethnic and reflect the spirit of this excitement within their products, which they offer as bridal and groomwear.
Suresh Manghnani, Director of Dimple Fashion, acknowledged that "being close to our customer has been at the forefront at Dimple Fashion and the launch of our new store at Meena Bazaar, Bur Dubai not only expands our footprint but brings us a step closer to a new community. Touch and feel are still important parameters when it comes to fashion shopping, and we adapt and cater to varied requirements from our customers. By adhering to their preferences and fulfilling their ever-evolving demands for elevated brand experiences, we continue our journey of excellence, remain committed and stay invested to strengthen our presence through exceptional value delivered to customers."
Dimple fashion has marked their spectacular place in the fashion world in the UAE by opening their 13th store with full colours of success. The day is not far when they will be announcing the launch of another store. They promise their customers that, "Life isn't perfect but your outfit can be".