Dubai has come alive with public outdoor events that invite people to soak up the season's vibe with unique entertainment, food, shopping and cultural experiences. Ranging from festive markets to art shows, these outdoor events are some of the unique attractions featured in the #DubaiDestinations winter campaign.
Winter markets
Dubai's sparkling winter markets are some of the most engaging places to visit in the emirate in the cooler months.
1.The Dubai Shopping Festival (DSF) market on the waterfront promenade of Al Seef corniche is packed with activities, workshops, and entertainment that the entire family can enjoy. Running until January 29 at the charming heritage district, the market offers an extensive entertainment programme. Under the theme of 'Learning by Doing', the market celebrates the spirit of passing knowledge from generation to generation. Interactive art installations in four zones inspired by the natural elements Water, Air, Earth and Fire bring to life the rich culture and history of the UAE.
2. The Etisalat Market Out of the Box (OTB) to be organised at the Dubai Design District from January 19-29 offers eclectic shopping and cuisine, live entertainment, and activities for the entire family including a skating rink and a padel court. The theme of DSF's premier alternative shopping destination this season is focused on Korean and Japanese pop culture. Visitors will be able to support Emirati and UAE-based entrepreneurs and discover unique fashion and flavours from dozens of homegrown brands at the event.
3. The Ripe Market, one of Dubai's most-loved markets in the winter, runs weekly across several scenic locations. With a flagship location at the Dubai Police Academy Park, the Market offers fresh food, diverse crafts and family-friendly entertainment. In addition, indoor pop-ups that retain the charm of the original event are organised at malls. The Market provides a platform for homegrown merchants and local farmers to sell products ranging from arts, crafts and fashion to fruits and vegetables.
4. The Farmers' Souq is another highly popular family attraction in the winter. Launched by the Dubai Municipality, and running until March 11 at the Palm Parks, the initiative is a free agricultural, social and investment platform that seeks to gather Emirati farmers under one roof to sell local produce directly to consumers. The Farmers' Souq this season features over 50 kiosks displaying high-quality local Emirati farm produce including fruits, vegetables, dairy products, organic products, honey, dates, and herbal products.
5. My Second Life (M2L) Market, organised at the DIFC Gate Avenue, offers visitors an opportunity to disconnect from their everyday life and try out new experiences and flavours. Connecting creativity and culture, the market, which runs until March 19, offers immersive experiences and engaging interactions for entrepreneurs, trendsetters, families, and creators.
6. High at the Towers is another highly unique, engaging destination for visitors this winter – a peaceful garden area that is home to food trucks and cozy little spots to enjoy comforting street food. Located in the heart of the DIFC district, adjacent to Emirates Towers, High at the Towers is one of Dubai's best kept secrets.
7. The Grand Picnic, a classic car event taking place at Safa Park on January 30, invites residents to display their vintage and sports cars and bikes enjoy a picnic surrounded by cool cars.
8. Dubai 80s: Earlier this month, a unique pop-up event called Dubai 80s, organised as part of the DSF at the Last Exit Al Khawaneej, transported visitors into a visual representation of Dubai in the 80s and early 90s. Dubai 80s aimed to capture the moment in time when the emirate was on the cusp of pivotal change with vintage photo galleries showing pictures of Dubai before its transformation into a global metropolis, photo booths, shows, anime and live performances, old-school gaming arcades, and classic cars, all offering a blast from the past.
9. The Quoz Arts Fest is on top of the winter event list. It celebrates great art, music and food with a programme of more than 200 activations. Held under the theme 'Shift Away', the 10th edition of the event held from January 28-29 features various installations, immersive activities, and performances by iconic musicians like Saint Levant and Bu Kulthoum.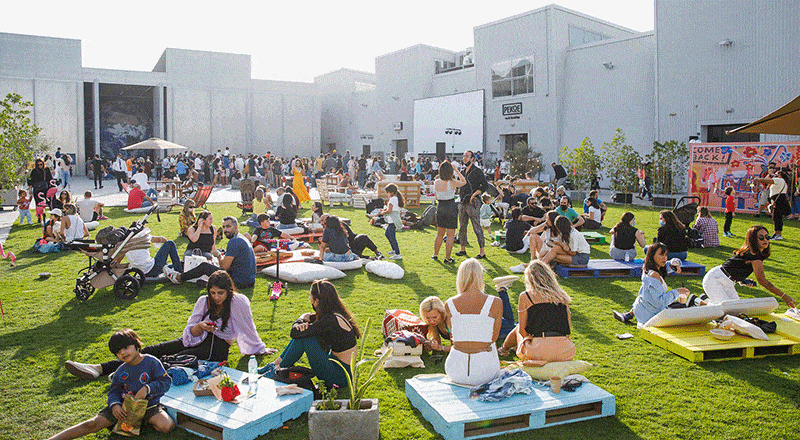 10. Dubai Lights: The Spark Within will provide another memorable art experience for the public this season. Returning for a second season this winter, this event offers with 10 interactive installations by international artists at City Walk. Previously exhibited at the prestigious Amsterdam Light Festival, these landmark exhibits will be seen for the first time ever in Dubai at the event running till January 29.
11. Dubai Lights: Sea Wonder, is another public art event for visitors to Nakheel Destinations in Palm Jumeirah —The Pointe, Nakheel Mall and Palm West Beach. Here, they can explore a magical underwater world featuring immersive activities and aquatic-themed decorations. As part of the show that runs until January 29, visitors can journey through illustrations and animations of underwater life including life size dolphins, jellyfish, pink coral ornaments, starfish and seashells. Sustainability is at the core of the installations, with every element using recycled, repurposed, or reusable materials.