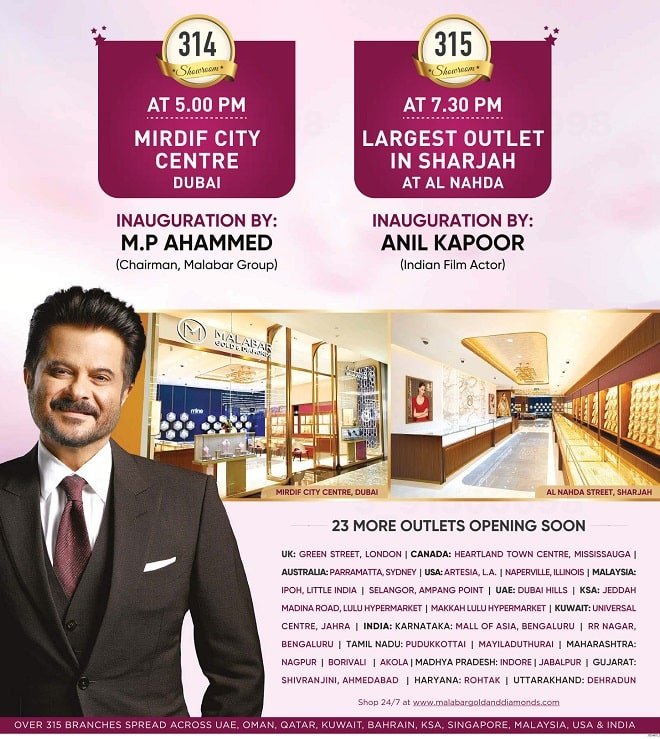 Malabar Gold & Diamonds, a leading global jewellery retailer with over 315 showrooms across 10 countries, is set to launch two new showrooms on May 19th. The first showroom, located at Al Nahda, Sharjah, will be inaugurated by Bollywood actor and brand ambassador, Anil Kapoor, at 7:30 pm. The second showroom, situated in Mirdif City Centre, Dubai, will be inaugurated earlier on the same day at 5:00 pm.
Spanning over 3,200+ sq. ft., the Al Nahda showroom will be the largest outlet of Malabar Gold & Diamonds in the Sharjah emirate. It has been designed to provide an immersive jewellery shopping experience, offering a stunning collection of gold and diamond jewellery. Customers will also have the opportunity to design their own jewellery with the assistance of expert designers and craftsmen, thanks to the customized jewellery designing facility. The showroom boasts a luxurious customer lounge area and ample parking space for convenience.
Both showrooms will showcase a wide variety of jewellery collections from the brand's exclusive brands, including Mine, Era, Viraaz, Ethnix, Divine, and Precia. The collections feature exquisite designs in gold, diamonds, and precious gems sourced from over 20 countries.
With the addition of these new showrooms, the outlet continues to expand its retail network and strengthen its position as a premier jewellery retailer globally.