Enjoy greater savings while indulging in the finest cinematic experiences with VOX Cinemas' exclusive ticket offers. Benefit from discounted movie tickets by utilizing your credit or debit card. This amazing deal is applicable at all VOX Cinemas locations across the UAE.
EMIRATES NBD
Enjoy the exclusive price of AED 47.25* for two regular 2D Standard or 2D Premium View tickets. You also get a free upgrade to the next size on your beverage and popcorn purchase.
*Price is inclusive of VAT.
---
HSBC

Use your HSBC Credit Cards to buy a ticket and get another one absolutely FREE!
---
CITI Bank
30% Off or Buy 1 Get 1 Free when you use your CITI Bank Credit Card
---
FAB

Purchase your Cinemas' tickets online for only AED 20 during weekends! And get a 20% discount on food and beverage combos.
To apply for a Credit Card from FAB SMS VOX to 2121
---
Standard Chartered Bank
Use your Standard Chartered credit card and get a free ticket for every ticket that you purchase.
---
ADCB

Buy a ticket online at voxcinemas.com or the VOX Cinemas mobile app with your ADCB TouchPoints Credit Card, ADCB Islamic TouchPoints Covered Card, ADCB 365 Cashback Credit Card, ADCB Islamic 365 Covered Card, or Betaqti Credit Card to get a free ticket.
---
LIV
Buy One Get One Free with your Liv Debit & Credit Cards
---
RAK Bank
Open up a world of entertainment with your RAKBANK World Credit Card and enjoy 50% off on all movie tickets at all times on all cinema experiences
---
Arab Bank
Use your Arab Bank Credit Card to buy a ticket at VOX Cinemas and get another one for free
---
Flexi Emirates NBD VISA Card
Use your Flexi Emirates NBD Visa Card to get two THEATRE tickets for AED 200 or one 4DX ticket for AED 63. Want more? You also get 20% off on the à la carte menu in THEATRE.
---
NBF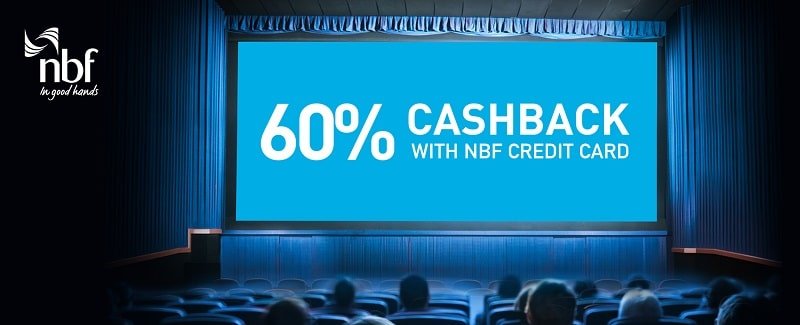 Get 60% off on your movie tickets with NBF credit cards
---
Mashreq Bank
Get 50% off on movie tickets at voxcinemas.com or VOX Cinemas mobile app with your Mashreq Solitaire Credit Card, Mashreq Platinum Elite Credit Card, Mashreq Al Islami Platinum Credit Card or Mashreq Al Islami Solitaire Credit Card. Visit www.Mashreq.com/cinema for detailed terms and conditions.
---
CBD

Enjoy 50% off on your tickets when you use your CBD Credit Card