Embark on an unforgettable adventure along the picturesque Oman coast with our Musandam tour deal! Enjoy a dhow cruise filled with snorkeling, banana boat rides, fishing, and a delectable buffet lunch, all while relishing the beauty of this coastal paradise.
Musandam Tourism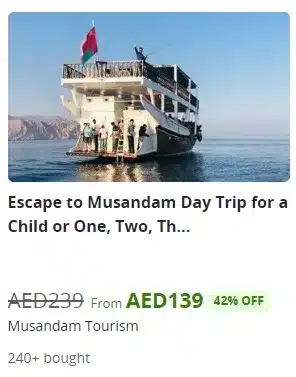 Discover the beauty of Musandam with our exciting day trip! Child and adult packages available, starting from just AED 139, saving you up to 42% on this unforgettable adventure.
Marhaba Global Tourism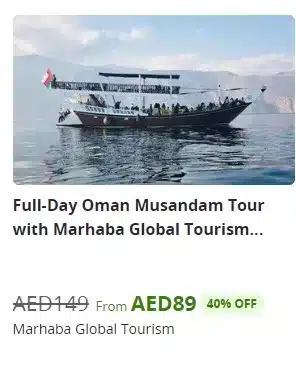 Explore Musandam with Marhaba Global Tourism! Enjoy a full-day tour starting at AED 89, a 40% discount from the regular price. Don't miss out on this fantastic opportunity to experience the wonders of Oman.
Kyka Group
Escape the bustling city and head to Musandam Dibba for a full-day cruise trip from Kyka Group LLC! Musandam Dibba dhow cruise package with optional transportation starts from AED 159 only