Explore Dubai's stunning coastline with exclusive yacht rental deals. Enjoy the luxury of sailing through iconic landmarks while taking in breathtaking views of the city.
Super Yacht Brunch at Centaurus Passenger Yachts & Boats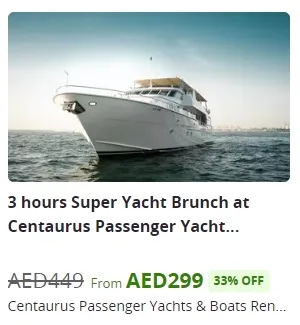 Enjoy a 3-hour yacht party brunch with tapas/canapés, snacks & free-flowing Grape & Hops Beverages
---
Up to 51% Off on at Master Yachts Cruises
Enjoy a relaxing yacht experience in Dubai with options for 40-, 45-, or 50-foot yachts, complete with swimming opportunities, the option to bring your own food and drinks, and a BBQ included in some packages. Sail from Dubai Marina to iconic landmarks like Burj Al Arab, Palm Atlantis, and Marina Water Canal, with routes subject to booking hours.
Location : Marina Walk Gate S near Waterbus Station 2
---
Four-Hour Private Yacht Hire from Bissalama Yachts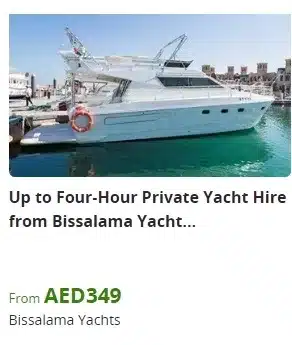 Gather your group for a private yacht adventure with options of 44ft, 55ft, or 82ft yacht rentals. Choose from one, two, three, or four hours of cruising and create unforgettable memories on the water.
Location : Jumeirah 5, Fishermans Village marina Um Suqueim 2
Luxury Yacht Hire at DMI Yachts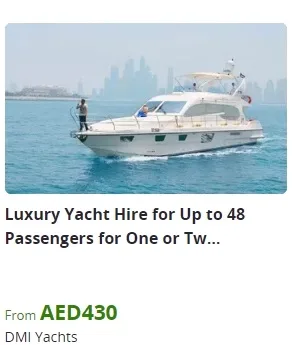 Gather up to 48 friends and family members for an unforgettable cruise or party aboard a luxury yacht. Choose from 44-foot, 52-foot, or 60-foot yachts, accommodating varying group sizes. Enjoy one or two hours of luxurious yacht hire, with the option to add extra hours directly through the merchant. Make your special occasions even more memorable on the water.
Location : Dubai marina walk Next to spinneys
---