Dinner in the Sky
Situated at Sky Dive Dubai, this dining sensation offers an extraordinary experience. Suspended 50 meters above ground by a crane, guests relish in exquisite views and lavish dining, making it an unparalleled and remarkable encounter.
Select the weekday option (589 AED) for Sunday to Thursday or the weekend option (628 AED) for Friday and Saturday. Enjoy lunch in the sky from 2:00 p.m. to 5 p.m. or dinner in the sky from 6.30 p.m. to 9.30 p.m. for a unique and elevated dining experience at Sky Dive Dubai. Buy this deal on Groupon>>
Dubai is known for its luxurious lifestyle, stunning architecture, and lavish shopping destinations. However, the city also offers a wide range of unique dining experiences, including underwater restaurants and dining in the sky. Some of the most unique dining destinations in Dubai include Ossiano Dubai, the Arabian Tea House, Sonara Camp Dubai, Atmosphere Dubai, and Ristorante L'Olivo at Al Mahara.
At.mosphere
At.mosphere at Burj Khalifa is a renowned luxury restaurant located on the 122nd floor of the iconic Burj Khalifa in Downtown Dubai. Offering stunning panoramic views of the city and beyond, it is considered one of the best places to dine in Dubai. This sky-high favorite is famous for its elegant afternoon tea, exceptional dishes, and contemporary gourmet menus. Tourists and residents alike are drawn to At.mosphere for its combination of exquisite dining and unrivaled vistas. For those seeking an even higher experience, The Lounge, Burj Khalifa, situated at 585 meters, holds the title of the world's highest lounge.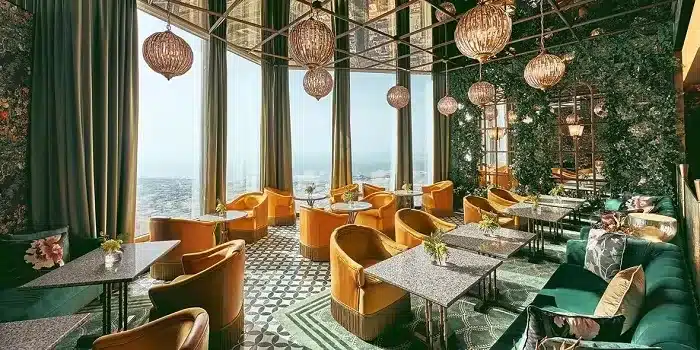 Le Petit Chef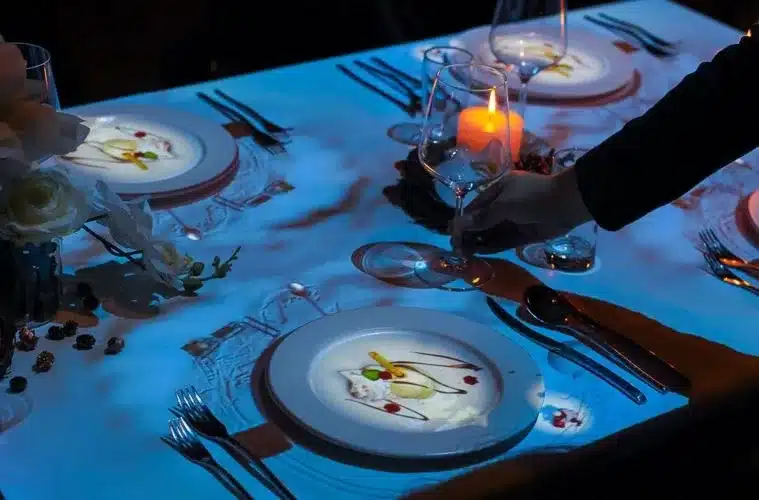 Le Petit Chef, the renowned tiny digital French chef, has made a return to Dubai and is now stationed at La Coco Restaurant in Andaz Dubai The Palm. This immersive dining experience offers a five-course menu, expertly crafted by head chef Mauro Santarelli, with the creative involvement of Le Petit Chef. Reservations can be made by emailing lepetitchef.andazdubaithepalm@andaz.com or calling 04 581 1234. It's important to note that bookings must be made at least 24 hours in advance, and the reservation period is available only until October 31. The venue, La Coco, is located at Andaz Dubai The Palm on Palm Jumeirah. The dining options include the grand menu priced at Dhs800 per person, the classic menu at Dhs600, the vegetarian menu also at Dhs600, and a children's menu at Dhs300 for ages six to eleven. To secure a spot, visit the website lepetitchef.com/Dubai or contact the provided phone number.
Message in a Bottle at JA The Resort
Experience an innovative dining concept at JA The Resort with "Message in a Bottle" by Dinner Time Story. This unique dining adventure not only delivers an exceptional culinary journey but also places a strong emphasis on sustainability. Through captivating visuals and a delectable five-course meal, the immersive experience unfolds aboard the boat "Sirene." The show spans two hours and includes a 30-minute marina tour, allowing you to soak in the enchanting moonlit Arabian Sea. The experience is best enjoyed with a group of four and even welcomes children with a dedicated kids' menu. Exclusive to Fridays and Saturdays, "Message in a Bottle" is priced at Dhs399 per person. To secure your reservation, get in touch at Tel: (0)4 814 5604 or visit jaresortshotels.com.
Seven Paintings at Shangri-La Dubai
Step into the realm of art and dining at Shangri-La Dubai with "Seven Paintings." This immersive dining experience unveils the stories behind iconic artworks such as the Mona Lisa and Starry Night through cutting-edge LED visuals, 3D graphics, and captivating illusions. With each course brought to life before your eyes, this multi-sensory journey takes place at shared tables for Dhs390 per person or in private settings for Dhs450 per person. Available on Thursdays to Saturdays from 8pm to 10pm, "Seven Paintings" invites you to explore art like never before. To reserve your spot, contact them at Tel: (0)4 405 2703 or visit shangri-la.com.
Krasota at Address Downtown Hotel
Indulge in an "Imaginary Art" experience at Krasota, an immersive gastro-theatre located at Address Downtown Hotel in Dubai. Immerse yourself in the world of great artists as you journey through video art, light, sound, and delectable dishes that complement the performance. Showcasing popular masterpieces with hidden meanings, this unique encounter promises a sensory delight. With matinee and evening seatings at 3pm, 6pm, and 9pm, starting from April 15, Krasota's "Imaginary Art" experience starts at Dhs1,830 per person. Secure your reservation by contacting them at Tel: (0)4433 1258 or visit krasota.art.
Pierchic, perched at the pier's edge in the Arabian Gulf, is an iconic seafood gem. With sweeping vistas of the ocean, Dubai skyline, and an exclusive view of the Burj Al Arab, it's a favored locale for romantic and celebratory occasions. The menu showcases an array of oceanic delights like oysters, lobster, and fish, skillfully prepared with fresh ingredients and inventive flair. The outdoor seating offers a starlit romantic setting, while indoors exudes elegance. Pierchic's exceptional service ensures a flawless dining experience, adding to its allure.
Ossiano, Atlantis The Palm
While Ossiano might not actually be underwater, it is housed inside the world's largest aquarium, located at Dubai's Atlantis The Palm hotel.
Filled with more than 65,000 marine life, the restaurant offers exquisite fine dining dishes during both lunch and dinner, including a huge 13-course set menu that will have you rolling out of there.
Taikun
Taikun Restaurant in Dubai is a stylish and sophisticated Japanese dining destination that offers a unique and contemporary take on traditional Japanese cuisine. Located in the iconic Vida Downtown hotel, the restaurant features an elegant, modern interior with a sleek design and dramatic lighting that creates a striking atmosphere.
The menu at Taikun Restaurant is a fusion of traditional Japanese cuisine with modern twists and flavors, offering a wide range of dishes that cater to all tastes and preferences.
While the food is great, the entertainment shows and performances set Taikun apart from other restaurants. During your visit, you can experience award-winning dancers from around the world performing exciting acts on the stage while you enjoy your delicious meal.
SAL
Dining at the beach is undoubtedly a delightful experience, and Dubai's coastlines offer a variety of options, including restaurants, cafes, and food trucks, each with its unique charm. For a truly memorable dining experience under the open sky, consider reserving a table at SAL at Burj Al Arab. This restaurant is located on the terrace extension of the iconic sail-shaped Burj Al Arab hotel. SAL specializes in Mediterranean cuisine and offers a stylish atmosphere to complement the beachside setting. If you're having trouble deciding from the menu, you can opt for their seafood signatures for a delectable treat.
Arabian Tea House
Nestled within the charming alleys of Al Fahidi Historical Neighbourhood, the Arabian Tea House offers a unique blend of sepia-toned Arabic heritage and the tranquil ambiance reminiscent of Mykonos. This hidden gem invites you to indulge in a diverse array of delectable dishes, including authentic Emirati delights like the chicken deyay served with rice, fish machboos, and flavorful spiced meat grills. The idyllic atmosphere is enhanced by the leafy courtyard of the wind tower-style building, where you can unwind amid billowing white canopies and white wicker furniture. This setting provides an opportunity to savor traditional Dubai dining at its finest.
Arabian Tea House is situated at: Al Fahidi Street, Bastakiya, Opposite Musalla Post Office, Bur Dubai
Hell's Kitchen

Elevate your dinner into a truly special occasion by combining it with a captivating show and Michelin-worthy excellence. Drawing inspiration from the famed television series hosted by chef Gordon Ramsay, Hell's Kitchen is a restaurant located at Caesars Palace Dubai that promises a theatrical experience alongside remarkable cuisine. The restaurant boasts distinct red and blue show-themed kitchens, reminiscent of the show's iconic setup. Immerse yourself in culinary challenges, dynamic action, and an energetic atmosphere, all of which contribute to crafting an unforgettable dining experience in Dubai.
For those seeking more celebrity chef-inspired dining, you can explore a definitive list of such restaurants in Dubai.
TOMO
TOMO provides not only exceptional cuisine but also an immersive experience. Begin your journey with a traditional welcome and enjoy panoramic views of Dubai's skyline from the TOMO Views lounge. As you proceed to your dining area, featuring low-seating tatami tables, you're in for a memorable culinary adventure from the land of the rising sun. A must-try dish here is the fatty tuna sashimi, a specialty that should not be missed.
To enjoy this delightful experience, head to: TOMO Raffles Dubai, Near WAFI Mall, Sheikh Rashid Road, Dubai