Dubai attracts people from across the globe. The city is a place for multitude of opportunities, world-class lifestyle and secure environment. Before deciding to move to Dubai, many people are eager to know the cost of living in the city. Fortunately, Dubai is a place where residents can live an affordable or lavish lifestyle, whichever they choose!
However these costs can change considerably depending on your personal preferences, lifestyle choices and area of residence.
Break-down of Expenses

Housing
Groceries
Utilities
Healthcare
Schooling
Entertainment
Transportation
Housing
When looking at the average cost of life in Dubai, one of the most important expenses to consider is housing. The Dubai property market is known for its sheer variety of residences available – from grand villas to cosy studio flats – catering to various budgets. The area that you live in will also impact how much of your income goes towards rent. While established areas such as Dubai Marina, Arabian Ranches, Jumeirah and Barsha have higher rental prices, residents looking to save on rent can find pocket-friendly properties in suburban communities, such as Dubai Silicon Oasis, Reem and Mirdif, or choose to live in some of Dubai's older districts such as Al Nahda or Deira.
Groceries
There are several supermarket chains in Dubai, which offer food items from around the world. Your lifestyle and food preferences can greatly impact your monthly grocery bills. If you prefer to shop at premium retailers such as Waitrose or Spinneys, and purchase imported food or expensive meat cuts (an Australian Ribeye Steak (0.8 kg) costs around AED 60 at Carrefour) you can expect a high grocery bill on a regular basis. However, it's possible to have a lower grocery bill by shopping at affordable supermarkets such as Carrefour, Lulu Hypermarket or Union Cooperative, purchasing local and in-season produce and keeping an eye out for bundle offers and discounts.
Common household groceries, such as apples, oranges, tomatoes, potato, onion, and rice are affordable. You can expect them to ring in at less than 10 AED per kilo. Bread, eggs, and milk are similarly affordable. However, cheese averages 40 AED, as does beef, and chicken isn't much better.
Utilities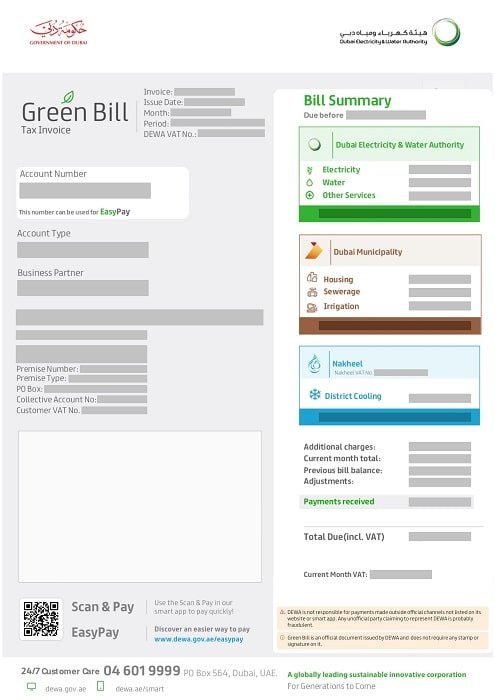 The cost of utilities, that is your electricity and water connection (known as DEWA), TV and internet package and mobile plans, is one of the essential factors for every resident. Your average monthly DEWA bill will likely differ during the summer and winter months, as the A/C usage will typically be higher in the summer. Additionally, if you choose to rent a villa with a private pool and garden, you can expect to see your bills further increase.
As for TV and internet packages in Dubai, residents can choose from various packages from the two service providers in the UAE, Etisalat and du. A basic package will get residents internet download speeds of 250 Mbps, 200+ TV channels and free calls to UAE landlines, which costs AED 389 per month. Meanwhile, premium packages with 500 Mbps download speeds, premium sports and entertainment channels will cost AED 1000 or more per month. Similarly, mobile plans in Dubai have packages starting from AED 125 per month but can reach AED 500 and more for better data packages and more calling minutes.
Healthcare

Health or medical insurance is mandatory for all residents in the UAE and will factor into your cost of living in Dubai. If you are being sponsored by the company you are working for, they are required to provide health insurance for you. However, it's also common for the company to also offer health insurance for your family as well. In the case that health insurance is not offered for your family or you are on an investor visa, you will be required to purchase it yourself from one of the many medical insurance companies in Dubai.
Medical insurance premiums will vary depending on the coverage, with Essential Benefits Plans starting from AED 600 per year. However, a comprehensive plan for an individual will cost on average around AED 5,500 per year. For a family of four, a comprehensive plan can cost a starting amount of AED 15,000 – AED 20,000. However, the cost of medical insurance in Dubai for a family of four can even reach AED 70,000, when looking at worldwide coverage and other premium benefits.
If you employ a housemaid, you will be required to provide them with medical insurance as well, typically under the Essential Benefits Plan.
Schooling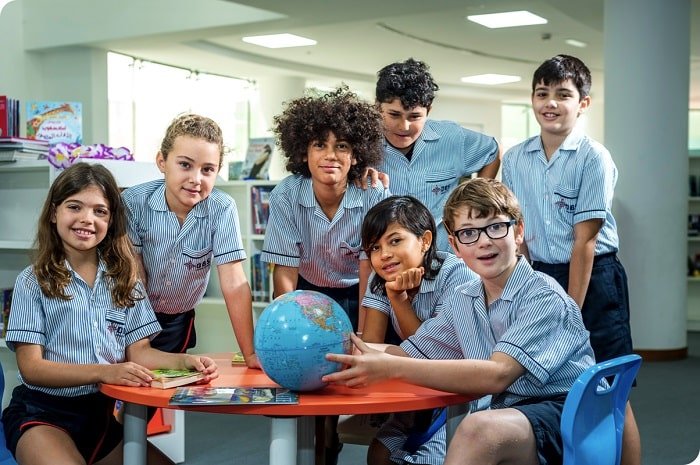 If you are parents of school going children, you will need to take into account school fees when calculating your cost of living in Dubai with family. Parents have a choice of schools in Dubai for their kids, with British, American, Indian or IB curriculum being the most popular. However, schooling fees can be quite expensive, especially when looking at the top schools in Dubai. British, American and IB schools typically have higher fees and the best schools can cost between AED 4,000 – AED 9,500 per month, depending on the grade your child is in. Meanwhile, the tuition fees of Indian schools in Dubai is more affordable, with top schools such as GEMS Modern Academy costing AED 2,800 – AED 5,200 per month. But it's important to bear in mind that the monthly expenses in Dubai for a family will increase when the uniforms, school transport, notebooks, exam fees, school trips and more are included in the calculation.
Entertainment

Dubai is never a boring place, you can enjoy a weekend at a fine-dining restaurants, IMAX cinemas, extreme sports and world-famous tourist attractions.
At about 35 AED or so, the cost of an inexpensive meal at a small restaurant isn't much more than fast food at an international chain, where a combo is about 30 AED. On date night, if you're craving a more substantial meal for two at a mid-range restaurant, you can expect to pay, on average, about 250 AED. However, it wouldn't be unusual to easily spend twice as much. When it comes to high-end restaurants, few destinations do indulgent luxury quite as well as Dubai. You could easily spend several thousand Dirham to spoil yourself.
Non-alcoholic treats like cappuccino are affordable at about 15-20 AED. However, beer at a hotel bar is much more expensive at 45-60 AED.
If you're going to the movies, a ticket rings in at about 43 AED.
Transportation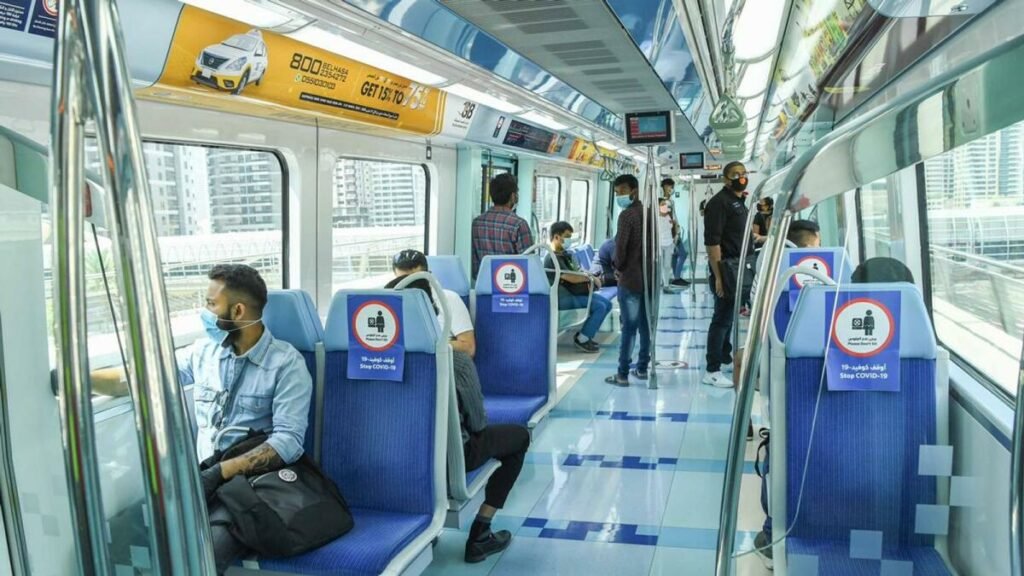 The cost of living in Dubai will also include your commuting costs. Whether you use public transport or your car to get around, the monthly expenditure will depend on the duration and frequency of your commute.
Petrol prices in the UAE are comparatively lower than other parts of the world, but your car model and how far you drive will impact your fuel costs. You also need to consider the costs of car insurance and servicing, which will depend on your car type.
For those who want to save money and use public transport, Dubai is connected by a network of public buses, taxis, ferries and the Dubai Metro. You can use the Nol card that covers all the city zones to pay for your bus, metro, ferry and even taxi fares. Again, your overall transportation cost will depend on the frequency and distance of your commutes and the mode of transportation you choose. Taxis are obviously more expensive.
You can also opt for the monthly Nol pass that costs AED 350 and enables residents to get around quickly. Another way to control your commute time and cost is to live closer to the workplace.