Embark on a seamless driving education with top-notch driving schools in Dubai, offering flexible schedules, professional trainers, and modern training vehicles for your convenience in Dubai.
Emirates Driving Institute
Established in 1991, Emirates Driving Institute (EDI) holds the distinction of being the largest and most accomplished driving institute in Dubai and the Middle East. As a proud member of the esteemed Belhasa Group, EDI has consistently delivered exceptional driving education and training services over the years.
Location: Multiple, including Al Qusais
Fee: Varied – depends on vehicle type, number of hours, timing etc.
Contact: +971-4-263-1100
---
Galadari Driving School
Galadari Motor Driving Centre (GMDC) stands out as a leading provider of car driving lessons in Dubai, UAE. With a strong emphasis on safety, individualized attention, and professional training, GMDC is dedicated to helping students acquire their car driving licenses in a fast and secure manner.
Location: Multiple
Contact: 600-595-956 (Al Qusais Main Office)
---
Belhasa Driving Centre
Belhasa Driving Center (BDC) has emerged as a pioneering driving school in Dubai. With a fleet of over 700 modern vehicles and a team of highly experienced instructors, BDC offers comprehensive driving courses for a wide range of vehicles, including cars, trucks, buses, motorcycles, and more. Thousands of students have successfully completed their training at BDC, obtaining driving permits and licenses.
Location: Multiple including Al Quoz Branch, Jebel Ali, Nad Al Hammar
Contact: 800-235-4272
---
Dubai Driving Center
Founded in 2003 by local entrepreneurs under the appointment of the Roads & Transport Authority (RTA), Dubai Driving Center (DDC) has been at the forefront of delivering exceptional International Driver Training standards to the residents of Dubai. DDC remains dedicated to continuous improvement in the quality and safety of their offerings.
Location: Multiple including DIP, Al Barsha, Al Khail, Jumeirah Road
Contact: +971-4-345-5855 (Jumeirah Road branch)
---
Al Ahli Driving Center
Since its establishment in 2006, Al Ahli Driving Center has been a trusted provider of driver education in Dubai. With comprehensive courses for various vehicles including cars, heavy buses, light buses, heavy trucks, articulated vehicles, forklifts, and motorcycles, they cater to drivers of all skill levels.
Location: Multiple including Al Nahda, Bur Dubai, Al Quoz
Contact: : 800-252-454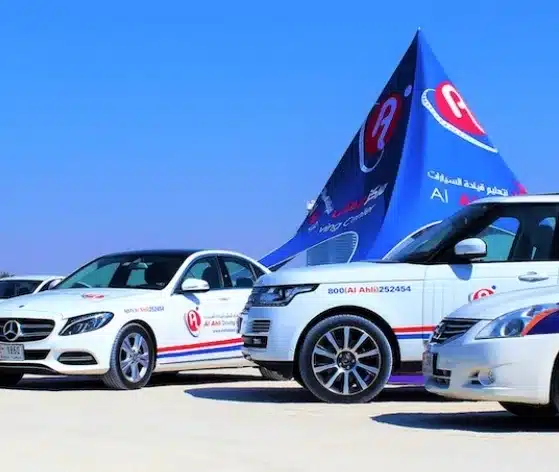 ---
Drive Dubai
DriveDubai is a leading driving institute offering comprehensive facilities and services on an expansive 850,000 sq. ft. premises. With over 20 years of experience, their experienced team manages everything from eye tests to RTA file opening, on-site testing, and license issuance. DriveDubai's commitment to quality training is evident through their state-of-the-art facilities and dedicated instructors.
Location: Multiple including Arjan, Motor City, International City
Contact: +971-4-885-5118