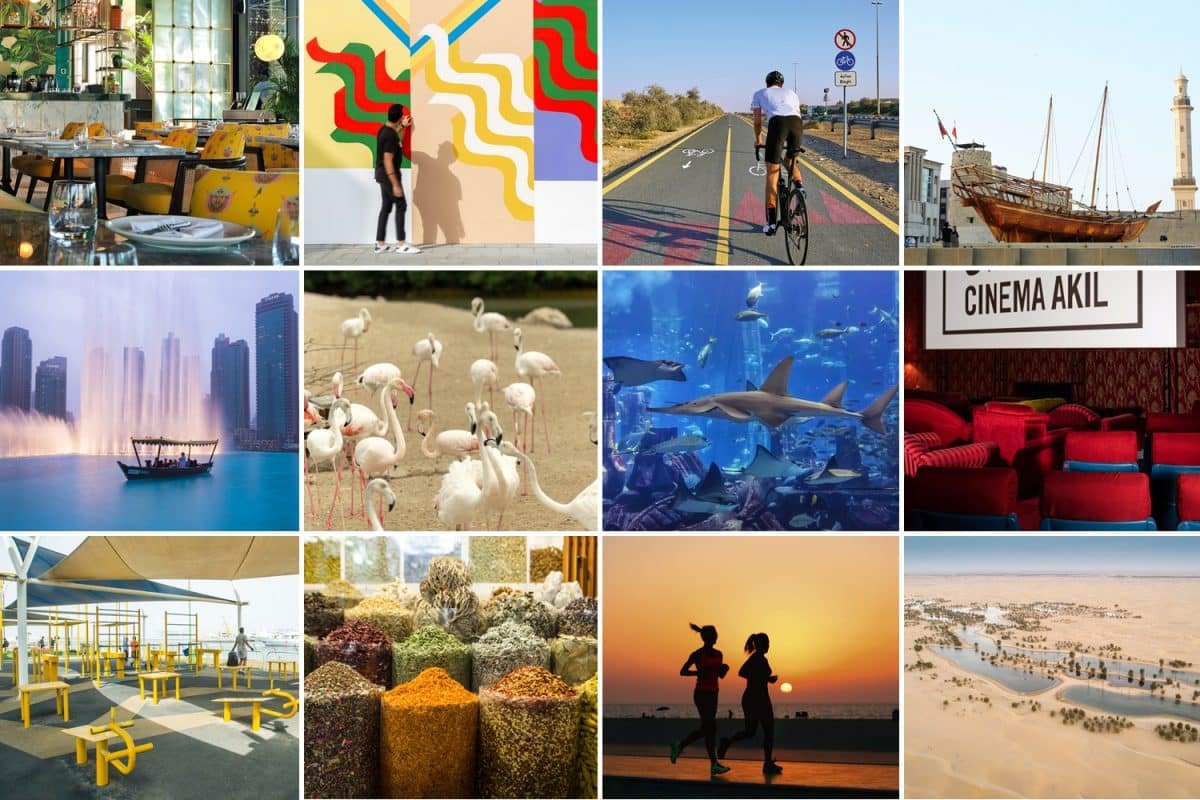 Dubai's urban lifestyle can be expensive, but there are actually many free activities to enjoy. Whether you're looking for a costless tourist attraction, an opportunity to connect with nature, or a budget-friendly sightseeing experience, we've compiled a list of the most enjoyable and wallet-friendly things to do in Dubai. These options are especially useful to know if you're feeling the financial strain after the holiday season
Alserkal Avenue
Arguably the hippest and artiest part of town, Alserkal Avenue in Dubai's Al Quoz is abundant with art galleries, performance spaces and some rather wonderful culinary delights. This former industrial estate has swapped engine oil for oil on canvas and is a permanent hive of artistic activity. There are loads of free things to do in this area of Dubai, from gallery exhibitions to browsing through shops and it's an excellent way to immerse yourself in a bit of culture without spending any money. Plus there are loads of Insta-tastic spots dotted around.
Open daily 10am-7pm. Al Quoz, alserkalavenue.ae (04 333 3464).
Antique Museum
Despite being a complete misnomer (it's not a museum, more of a bizarre bazaar), this vast network of narrow passages is filled to the brim with antiques and knick-knacks from Asia and the Middle East. Just browsing through the mind-boggling array of goods is great fun, and it's all free to do – you'll just have to hold back from buying that antique sideboard that would look perfect in your sitting room…
Open daily 9am-8.30pm. Al Quoz, fakihcollections.com (04 347 9935).
Burj Khalifa

The Burj Khalifa is one of the most impressive feats of human engineering on the planet, and since opening to the public back in 2010 has relentlessly smashed world records at a canter. But if heights aren't your thing, or you'd rather not pay for the viewing platform, there are plenty of opportunities in Dubai to take a selfie in front of the iconic building. Why not give it a go?
Cinema Akil
This former film pop-up's popularity has swelled as swiftly as a Hollywood studio's coffers after another blockbuster. And that's thanks to its unwavering support of world cinema – the cinema sometimes puts on free screenings so it's worth keeping an eye on. Discover incredible directors and actors who would've probably otherwise passed you by…
Timings vary. Alserkal Avenue, Al Quoz, cinemaakil.com.
Gold Souk
One of the biggest marketplaces for that most glistening of precious metals, you might want to keep your sunnies on when you set foot inside the Gold Souk. Stall after stall sell shiny new jewellery and other fineries. One for any checklist, even if your haggling skills don't dazzle and you can wander around and enjoy all the sights of Old Dubai for free (even if you can't stretch to the price of actually shopping). Fork out an extra Dhs2 and you can hop on an abra too, for what will be the cheapest scenic boat trip you'll encounter.
Open Sat-Thu 9.30am-9.30pm, Fri 4pm-9.30pm Al Ras, Deira.
Jameel Arts Centre
This thoroughly funky building on the Jaddaf Waterfront is original in its programming and forward-thinking in its research. Fiercely independent, it supports artists from the MENA region like few other establishments. And you can too by popping along and immersing yourself in this cracking creative centre, which offers plenty of free things to do in Dubai.
Open Sat-Mon 10am-6pm, Wed-Thu 10am-6pm, Fri noon-8pm. Jaddaf Waterfront, jameelartscentre.org (04 873 9800).
Learn a new language
Had enough of your own amateurish attempts at Arabic? Maybe you should shift your linguistic attentions to the Far East and join the J-Café to pick up some rudimentary Japanese (or 'Nihongo'). The well-versed volunteers will engage you in fun ways to learn the lingo, and promise not to laugh (too much) at your atrocious accent. Not up for socialising? Taking you back into the classroom, Babbel is a comprehensive way to learn a new language, online. The app is basic and focuses on combining audio with visual cues so you can learn the basics of conversation quickly. With short 15-minute lessons they're easy to work into your day. One of the most rewarding, and best free things to do in Dubai.
Times vary. Caribou Coffee, DIFC, www.meetup.com/exchange-your-language-with-japanese.
Museum of the Poet Al Oqaili
The vision of a pioneering poet, this structure remains an homage to the great man himself and gives visitors a real taste for what inspired his work. Some of his original, handwritten collections (oh, how we'd love to ditch the keyboard) can be discovered here, along with his writing desk and the pens he so perfectly put to paper.
Open Mon-Thu 8am-3pm, Fri 8am-11.30am. Al Ras, Deira, dubaiculture.gov.ae (04 515 5000).
Spice Souk
This Old Dubai souk is brimming with culture, sights, sounds and smells. Easily the most amazingly aromatic free things to do in Dubai, a trip to the Spice Souk is an absolute must for anyone handy in the kitchen. You'll find the full gamut of Arabic spices for sale here, along with oils, nuts and a tasty selection of sweet treats. Even if you don't buy anything it's fun to wander around and take in a bit of Dubai history.
Open daily 9am-11pm. Al Ras, Deira.
Street Art
Unless you spend your time walking around the city blindfolded, you'd know there is street art around plenty of corners, all of which you can admire absolutely free. From JBR to Karama, City Walk to Satwa and La Mer to Jumeirah Beach Road, the city is awash with colourful creations from some truly great artists.
Various locations across Dubai.
Textile Souk
Across the Dubai Creek from its Gold and Spice sisters is the Textile Souk in Bur Dubai, home to a myriad traders selling wonderfully colourful fabrics along with all the accessories a fashion designer could want. You might not be Alexander McQueen but don't rule out an afternoon's browsing for free in Dubai here.
Open Sat-Thu 9am-2pm and 4pm-8pm. Ali Bin Abi Talib Street, Bur Dubai.
Traditional Architecture Museum
Almost 100 years old, this was the former residence of Sheikh Juma bin Maktoum but now houses an array of traditional tools and ornamental items used in homebuilding in Dubai and the other emirates back in the day. It also charts the history of Emirati architecture. Without doubt one of the best free things to do in Dubai.
Open Sun–Thu 8am-2pm. Al Fahidi St, Bur Dubai (04 515 5000).
Waterfront Market
There were a few tears (and scales) shed when the old Deira Fish Market slung its hook but this massive, bargain-laden venue is a fitting substitute. We could spend hours admiring the various catches. As days out go, this a different kettle of fish entirely. Free to browse around even if you're not shopping (and there's no charge for dinner inspiration).
Open 24/7 (except during deep cleaning). Deira Enrichment Project, Al Khaleej Road, waterfrontmarket.ae (800 627 538).
XVA Gallery
Specialising in contemporary art from the Arab world, Iran and the Subcontinent, XVA has done more to champion both established and up-and-coming talent from the UAE and beyond than most galleries could even dream of. Exhibitions are on regular rotation so you're bound to find something new.
Open daily 7am-10pm. Al Fahidi Historical Neighbourhood, Bur Dubai, xvagallery.com (04 353 5383).
Al Fahidi Historical Neighbourhood
One of the best free things to do in Dubai, for anyone who appreciates history. Leave the city's skyscrapers behind for a day of discovering what Dubai used to look like back before it struck oil. Just meandering through its narrow streets gives you a feel for Al Fahidi's past as both the cultural and commercial hub, the home of the ideas that shaped Dubai's history.
Open daily 24/7. Al Fahidi, Bur Dubai (04 515 5000).
Camel Museum
Love camels? Want to learn more about them for free in Dubai? These beautiful beasts remain a huge part of Dubai's heritage and here you can learn more about how the Bedouins relied on camels for survival. Once a stable for the sheikhs, this place is a love letter to the ships of the desert.
Open Wed-Mon 10am-8pm. Al Shindagha Historical Area, Bur Dubai (04 392 0368).
Coffee Museum
One of the best free things to do in Dubai if you're a coffee-lover. Some say Emirati life is not fuelled by oil but by coffee, and this place is a celebration of all things caffeine-based. The ground floor showcases different roasting techniques and associated antiquities, while upstairs you can try a cup while reading up on why coffee makes us full of beans.
Open Sat-Thu 9am-5pm. Al Fahidi Historical Neighbourhood, coffeemuseum.ae (04 353 8777).
Coins Museum
Although we long for the return of a barter system, you can't get far these days without some coin. This gorgeous building in Bur Dubai has eight rooms brimming with information about historical money from the UAE and beyond. You'll certainly see different sides to the same coins here. And it's free to get in.
Open Sun-Thu 8.30am-2pm. Al Shindagha Historical Area, Bur Dubai (04 392 0368).
Hatta Heritage Village
Ever wondered what Dubai's first villages looked like? Well this faithful recreation is as close as you'll get to the real thing. See how the local rulers lived by having a gander at their house (Bait al Wali) before taking out your enemies (or at least dreaming of it) from one of the watchtowers. Admittedly gory, but one of the best free things to do in Dubai.
Open Sat-Thu 7.30am-8.30pm, Fri 2.30pm-8.30pm. Hatta (04 852 1374).
Naif Museum
Dubai's first police station, Naif Fort was built in 1939 and its museum is testament to why the city became one of the safest on the planet. Full of artefacts including old uniforms and weapons, if those rifle-toting mannequin cops weren't enough to scare you off a life of crime we don't know what would be.
Open Mon-Thu 8am-3pm, Fri 8am-11.30am Deira (04 227 6484).
Birdwatching at Ras Al Khor Wildlife Sanctuary
For those of you who know twitching doesn't only involve involuntary spasms, Ras Al Khor Wildlife Sanctuary is the place to be. This avian haven is home to many a feathered friend, and while the flamboyant flamingos top the bill you can also spot herons, cormorants and ospreys from the free-to-use hides. Truly unforgettable, it's one of the best free things to do in Dubai.
Open daily 7.30am-5.30pm (Oct-Mar), 6am-6pm (Apr-Sep). Ras Al Khor, rasalkhorwildlife.ae (04 606 6822).
Camping at Al Qudra Lakes
Should you struggle going really wild, a night camping at Al Qudra Lakes could be just the ticket. Clean and calm but chilly at night make sure you build a camp fire before sundown and bring plenty of marshmallows to keep those energy levels up. For more places to camp in Dubai visit timeoutdubai.com.
Open daily 24/7. Al Qudra.
Go leaping at Big Red
You haven't done Dubai if you haven't done the desert. And you haven't done the desert if you haven't had a photo taken of you mid-air, legs and arms flailing atop the emirate's biggest dune, Big Red. Snap taken, rest awhile and enjoy the view out over the Empty Quarter. True, petrol costs money but it's free to get there if you have a car in Dubai.
Open daily 24/7. Rub' al Khali (The Empty Quarter).
Have a picnic at Al Barsha Pond Park
Home to countless winter picnics, this (unsurprisingly) pond-side spot is a brilliant spot to unfurl your blanky and kick back for the afternoon. There's a huge lawn overlooking the pond – which is more lake-sized than pond-sized, really – and once you're done scoffing your cherry tomatoes and piccalilli you can lie back in the sun or go for a stroll.
Open Sun-Thu 8am-10pm, Fri-Sat 8am-11pm. Al Barsha (800 900).
Watch the sunrise at Al Jaddaf
Just south of Dubai Creek, Al Jaddaf is home to more than solely hotels – as its name (meaning 'The Rower') refers to its dhow-building history. But you don't have to set sail at dawn here as you can enjoy unobstructed views of the sun sauntering above the Downtown skyline first thing. What a way to start the day.

Sunset at Al Sufouh Beach
There are countless fine vantage points from which to see the sun take his hat off and replace it with a nightcap but huddling up with your nearest and dearest on the relatively peaceful Al Sufouh Beach is one of those unmissable experiences that money simply can't buy. And you don't need it either.
Open daily 24/7. King Salman Bin Abdulaziz Al Saud St, Al Sufouh.
The Love Lakes
Looking for the ultimate romantic spot? The "Love Lakes" – two intertwined heart-shaped lakes set up near Al Qudra Lakes, is one for you. It can even be seen on Google Maps with the shape of the two hearts, right next to The Last Lake of Al Qudra. The best way of getting there is heading along the D63 route, past Last Exit and by turning right on the road that also leads to Al Qudra Lakes. Take a picnic when the weather cools and enjoy a quiet stroll at this serene spot.
Al Qudra.
Take a Desert Drive
This one requires a 4×4 and some skilled driving but even if you're not neighbours with rallying legend Sébastien Loeb, surely one of your mates has a suitable vehicle they can take you for a spin among the dunes of the Dubai desert in. Roam free (you might have to give them an IOU) but make sure your sat-nav is up to scratch or it might cost you something to
get back.
Open daily 24/7 (best to go during the day, though). Various locations on the outskirts of Dubai.
Cycle at Al Qudra
Another sublime spot for a sunrise (and sunset), the Al Qudra Cycle Track is a purpose-built circuit spanning some 50 miles. Now we're not suggesting you tackle every inch of this superb facility in one go (unless your name's Chris Froome that is) but head here early doors, or late in the day, and beat the heat – and your personal best.
Open daily 24/7. Al Qudra.
Grab a free ClassPass
No one likes being tied down to a gym contract so if you don't discover some sessions that suit you then ClassPass will let you pack up your troubles in that old kit bag and just try the next. Maybe you'll be brilliant at boxing, a pro at Pilates or a natural-born yogi. Either way hopefully you'll find form that isn't temporary and a class that's permanent. Just remember your towel and water bottle and enjoy one of the top free things to do in Dubai.
Various times and locations. classpass.com/pricing/united-arab-emirates/getclasspass.
Hike Hatta
Your hastily-bought-then-hidden-in-the-wardrobe hiking boots were made for walking and there is only place to really let them do the talking. Hatta has five routes of varying difficulty, all set among the Hajar Mountains that you can do for free. This is Dubai's
largest national park so go and explore,
all for free. Blisters? What blisters?
Open daily 24/7. Hatta, visithatta.com.
Kite Beach
As much as we adore flying a kite (up to the highest height), when we're in the mood for something less leisurely then we can't resist the stretch of running track that snakes back and forth past this beautiful beach. The run's superb sights will send you soaring, too, on a trip to Dubai's Kite Beach. The best news? You don't have to pay for the pleasure.
Open daily 24/7. Sunset Beach-Kite Beach-Jumeirah 1.