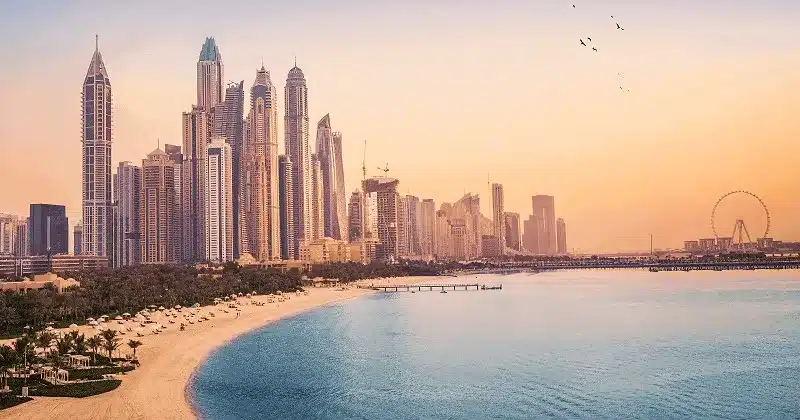 When your elderly loved ones visit Dubai, ensuring they have a wonderful time exploring the city can be a challenge. Whether they're food enthusiasts, sightseers, adventurers, or looking for unique Dubai experiences, we've got you covered.
Embark on a Dinner Cruise:
Enjoy the Dubai Marina, Ain Dubai, and JBR sights with ease on a relaxing dinner cruise. Sunset or evening options are available, both featuring a 90-minute cruise with a buffet and live music. Prices start at Dhs210 for the 5pm cruise and Dhs269 for the 8pm cruise. View Dinner cruise deals.
Groove to Jazz Nights:
Treat your grandparents to a delightful evening filled with soulful jazz music. Dubai offers various venues with jazz nights on different days of the week. Check out our guide on where to enjoy live jazz in Dubai. Locations vary.
Savor an Authentic Emirati Breakfast:
Give your elders a taste of local cuisine at Arabian Teahouse in the Al Fahidi district, Bur Dubai. Try the Emirati breakfast tray with a range of traditional dishes or Mr. Ali's favorite breakfast featuring scrambled eggs and more. Prices start from Dhs58. Open daily from 8am to 11.30pm. Find it opposite Musalla Post Office, Al Fahidi Street, Bur Dubai, at arabianteahouse.net.
Indulge in Afternoon Tea:
Treat your visitors to an elegant afternoon tea experience in Dubai. Discover a variety of venues offering exquisite mini sandwiches, teas, and pastries. Explore our list of seven over-the-top afternoon teas to enjoy with your visitors. Locations vary.
Bird Watching at Ras Al Khor Wildlife Park:
Take a short trip from Dubai to Ras Al Khor Wildlife Sanctuary for bird-watching. Spot pink flamingos, herons, cormorants, and ospreys in their natural habitat. Entrance is free, and it's open daily from 7.30am to 5.30pm (Oct-Mar) and 6am to 6pm (Apr-Sep). Find it in Ras Al Khor at rasalkhorwildlife.ae.
Spice Souk Adventure:
If your grandparents enjoy cooking, let them explore the spice souk to stock up on fragrant seasonings. It's a sensory experience even if they don't plan to purchase. Located on Baniyas Street in Deira.
Visit the Love Lakes:
Take a leisurely walk with your grandparents at the Love Lakes in Al Qudra, a man-made attraction featuring interlocked heart-shaped lakes and charming tree formations spelling out 'love.' It's an ideal spot for a picnic. Located in Al Qudra, Dubai.
Dubai Miracle Garden:
Experience a day of natural beauty at Dubai Miracle Garden, the world's largest natural flower garden. With over 150 million flowers and unique topiary displays, it's a floral wonderland. Opens October 10th, tickets at Dhs75. Located in Dubailand.
Dubai Opera Evening:
Enjoy a cultural evening at Dubai Opera, offering a variety of shows, including opera, pop concerts, dance performances, musicals, and plays. Check their schedule for upcoming performances. Located at Dubai Opera.
Dubai Glow Garden:
Explore the world's largest glow-in-the-dark park at night, filled with vibrant light installations and 3D artwork. Perfect for visitors of all ages. Tickets at Dhs70. Open daily from 5pm to 10pm at Zabeel Park. Check out the Offers at Dubai Garden Glow.
Hot Air Balloon Adventure:
Cross off a bucket list adventure with a hot air balloon ride over the desert, offering breathtaking views. Prices start from Dhs700, with early morning pickups. Check out the Hot Air Balloon offers
Visit Burj Khalifa and Dubai Fountain:
Experience the iconic Burj Khalifa, the world's tallest building, illuminated after dark. Watch the Dubai Fountain shows in front of it. Head to Dubai Mall to enjoy both attractions. Located in Downtown Dubai.
Sightseeing Bus Tour:
Discover Dubai's attractions without walking by taking a sightseeing bus tour with Big Bus Dubai. Two routes are available: city and beach, with multiple stops throughout the day. Daily from 9am to 5pm. Various locations, book at bigbustours.com.
Explore The QE2:
Visit The QE2, a former vessel owned by Queen Elizabeth II, now transformed into a hotel with restaurants, including the Lido restaurant, Golden Lion pub, Queens Grill, and a theater. Located at Port Rashid.
The View at the Palm:
Enjoy breathtaking 360-degree views of Palm Jumeirah from The View at Palm Tower, located on level 52, offering stunning vistas. Tickets are priced at Dhs100, and it's open daily from 10am to 8pm. Find it at the Palm Tower, Palm Jumeirah.