Sunrise Hot Air Balloon Experience
Tour Details:
Pickup time is between 03.30 A.M to 05.00 A.M, depending on the location.
Flight time approx. 30 to 60 minutes between 05.30 A.M. to 08.00 A.M. depending on weather conditions.
The balloon will be floating through the air for 30 to 60 minutes depending on weather conditions.
Drop off time approx. in between, 08.00 AM to 9.00 AM back to the hotel, depending on hotel location and traffic.
Instructions will be given by the pilot and the operation team.
---
Rising Sun Hot Air Balloon Ride in Ras Al Khaimah
Witness the mesmerizing sunrise and be enchanted by the breathtaking Ras al Khaimah desert from a hot air balloon, offering a unique and exhilarating experience in one of the most captivating destinations.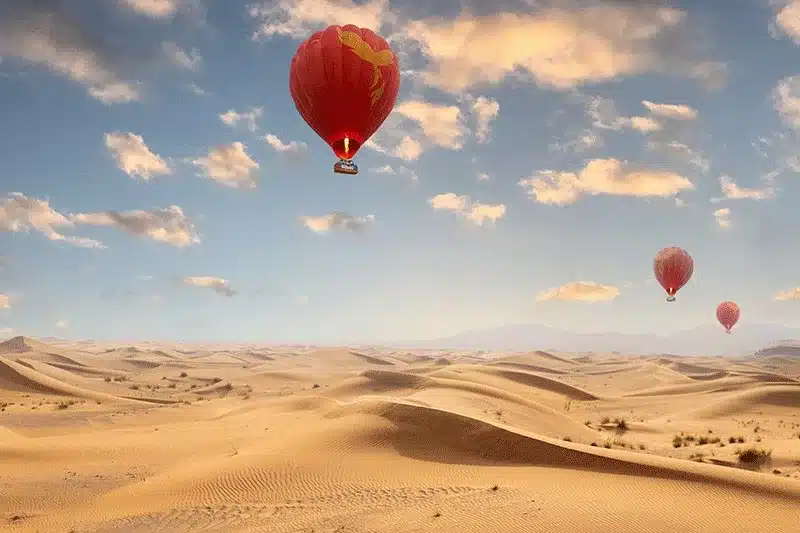 Soar high above the Ras al Khaimah desert in a hot air balloon and immerse yourself in a breathtaking panoramic view that showcases the mesmerizing expanse of golden dunes stretching as far as the eye can see.
Indulge in a captivating hot air balloon ride in Ras al Khaimah that combines the thrill of soaring through the sky with the serene tranquility of floating gently above the desert
Experience the thrill of spotting elusive desert wildlife from a unique vantage point as you glide silently through the air.
What's included in the ticket
Return transport/hotel transfers within Ras Al Khaimah
Passengers from outside Ras Al Khaimah can be picked up and returned to a central meeting point within Ras Al Khaimah by arrangement as stated upon booking.
Return transport is available at the rate of 100 AED per passenger originating from Dubai, Fujairah, Sharjah, Ajman, or Umm Al Quwain to Ras Al Khaimah.
Flight briefing is conducted at the launch site while the balloon is being inflated.
A short, fun, off-road drive from the balloon landing site to the road, where an air-conditioned vehicle returns you to our Arabic majlis-style servery within the beautiful oasis-like surroundings at ActionFlight's Tower Links facility.
A gourmet 'bubbly' breakfast is included offering a delicious choice of local and continental foods, a selection of teas, coffee, and juices (alcoholic and non-alcoholic options).
A flight certificate signed by your pilot.
Birds of prey show featuring falcons, hawks, and beautiful owls. Watch as they fly freely, showcasing their skills