Welcome the New Year in Dubai with a mesmerizing extravaganza of fireworks, sumptuous dinners, and unforgettable parties. From the dazzling night sky to the vibrant cityscape, Dubai offers a dazzling experience for a memorable New Year's celebration.
New Year's Eve Marina Dinner Dhow Cruise
Witness the enchanting miracle of Dubai on New Year's Eve with a Dubai Marina Dhow cruise, combining scenic beauty and a unique celebration. Embark on a traditional Arabian dhow for a delightful journey, relishing international cuisine and immersive music. The night culminates with a magnificent fireworks display, ringing in 2024 with luxury and joy. Savor a 5-star dinner while admiring Dubai's top spots at NY night and the mesmerizing fireworks at JBR and Atlantis during this New Year's celebration in Dubai Marina..
Date : 31st Dec 2023
Duration : 3 Hours ( Open from 9.30pm until midnight)
Prices from AED 1470 onwards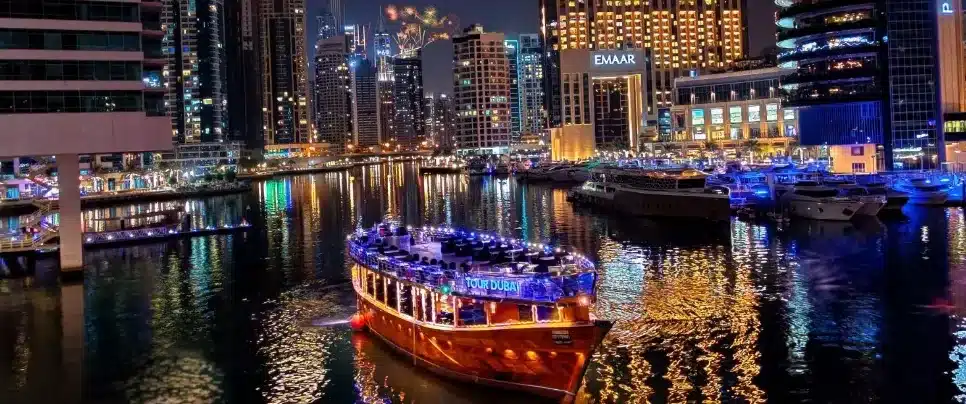 ---
New Year's Eve Creek Dinner Dhow Cruise
Dubai looks enchanting at night. And when it is a New Year's eve, it is beyond ravishing. If you want to make your New Year celebration, a memorable one, the New Year dhow cruise is the perfect solution.
New Year Dhow cruise dinner takes place on a traditional Arabian wooden boat riding around the most spectacular places of Dubai.The trip starts on the open air deck where you will get motivated for a special event by enjoying festive views of the city and meeting other guests.Then you will indulge yourself with incredible shows and a 5-course gala dinner. However, the cherry on the cake of Dhow Cruise Dubai NYE is definitely world-known spectacular Dubai`s fireworks at midnight.

Date : 31st Dec 2023
Duration : 3 Hours ( Open from 9.30pm until midnight)
Prices from AED 1105 onwards

---
New Year's Eve Spectacular Live Fireworks Aboard
Experience a one-of-a-kind New Year's Eve celebration in Dubai by joining a boat tour on December 31, 2023, from 11:00 PM to 01:00 AM. Guests will have the opportunity to witness the mesmerizing fireworks at renowned locations like the Palm Atlantis, Burj Al Arab, or Bluewater Island. The package includes soft drinks, water, and life jackets, all provided by the accommodating crew.
Doors open : 10.30 pm
Prices from AED 600 onwards

---
New Year's Eve Fireworks Cruise in Dubai with Abra Tours
Celebrate New Year's Eve in style aboard a modern Abra Boat, surrounded by the glittering lights of Dubai Marina, Ain Dubai, JBR, and Atlantis. Enjoy a 120-minute sightseeing cruise featuring breathtaking fireworks, complemented by complimentary bottled water, soft drinks, and ice. Capture the festive moments with family and friends, all while bringing your own snacks to amplify the party atmosphere. With an experienced captain, onboard safety equipment, Bluetooth music system, and the flexibility to bring your own food and drinks, this cruise promises a perfect blend of excitement and comfort for a memorable start to the year.

Prices from AED 499 onwards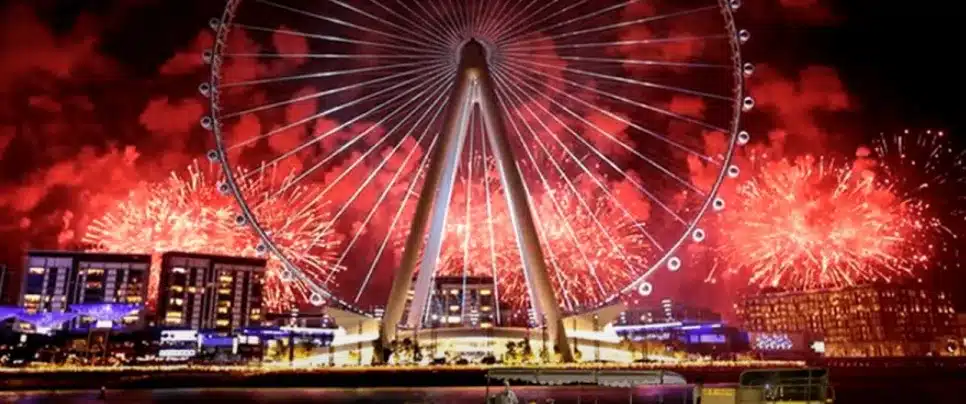 ---
New Year's Eve Dubai Canal Creek Harbour Cruise
Experience the grandeur of Dubai Festival City's fireworks and the mesmerizing Burj Khalifa light show up close, creating a breathtaking visual spectacle. Indulge in a luxurious 5-star buffet, showcasing a delectable array of festive dishes for an unforgettable dining experience. Enjoy the enchanting melodies of captivating international music, adding a harmonious touch to this unforgettable night of celebration.
Venue : Dhow Cruise Al Seef
Doors open : 9.30 pm
Prices from AED 1,300 onwards

---
'Hall of Wonders' NYE 2024 at Time Out Market Dubai
On December 31st, 2023, guests can step into a world of enchantment, where captivating circus performances, whimsical surprises, live music, and electrifying entertainment will transport them to a realm of wonder. Exclusive cocktails and culinary delights crafted by Time Out Market Dubai's renowned chefs and restaurateurs for this special evening promise a unique dining experience.
Doors Open: – 6.30 PM Gold ticket holders – 7 PM all other ticket holders
Show Starts: 8 PM
Prices from AED 500 onwards

---
New Year's Eve Fireworks Show at Love Boats Cruise
Experience the most spectacular New Year's Eve fireworks show in Dubai 2024 aboard Love Boats UAE, offering an exclusive front-row view of the breathtaking fireworks displays from three iconic landmarks: Atlantis, Burj Al Arab, and Burj Khalifa, all visible from one spot. Join us for the best fireworks spectacle of New Year's Eve 2024 in Dubai.
Venue : Boat Tours UAE, Near Spinneys Supermarket Beside Reem Al Bawadi
Prices from AED 699.


---
New Year's Eve Gala Dinner featuring Sting In Dubai
A celebration to rival all others, your New Year's eve will begin with canapés, Champagne, a 30-piece live band performance, and STING as your night's entertainment.
Expect a night of glamour and glitz, a luxury buffet, live cooking stations, unlimited premium alcoholic drinks including free-flowing Champagne and the greatest show on earth: The Atlantis fireworks!
Schedule
The doors open at 07:00 p.m. and the show starts at 08:00 p.m.
Prices from AED 4,500