Dubai boasts a plethora of popular shopping districts, each offering a unique and exciting retail experience. These bustling hubs cater to every shopper's taste, featuring a diverse range of fashion, accessories, electronics, and more.
City Walk

Embark on an enchanting journey through City Walk, a vibrant urban precinct that embodies the essence of Dubai's excitement. Discover a world of chic shops, inviting al fresco restaurants, and beautifully designed outdoor spaces, complemented by the luxurious La Ville Hotel and Suites. This family-friendly lifestyle destination seamlessly combines shopping with entertainment, featuring remarkable attractions like The Green Planet, Coca-Cola Arena, a cinema, play areas, and a dynamic lineup of year-round events.
For families, the European-style pedestrian boulevards provide a delightful atmosphere, stretching across multiple blocks from the city towards Jumeirah. Fashion enthusiasts will revel in the extensive range of local and international boutiques, curated alongside exceptional indoor and outdoor dining options. Don't miss the trendy culinary experiences at La Ville, including Graze and Chival, adding a touch of hip sophistication to your visit.
Bur Dubai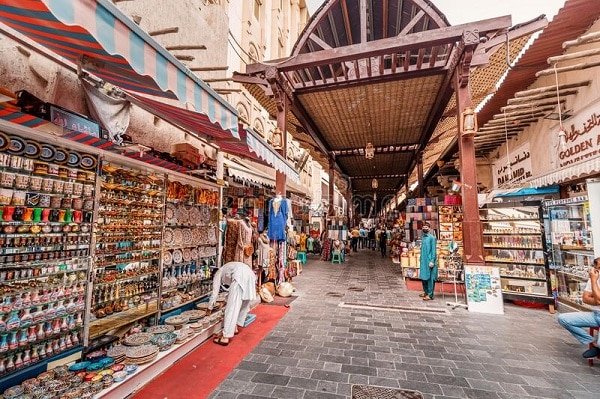 Bur Dubai is an area known for its lively collection of vibrant fabrics, exquisite jewelry, and delightful perfumes
Textile Souk in Bur Dubai is a vibrant trading center offering a wide array of textiles, colorful garments, and handmade weaves from around the world. In addition to popular fabrics and readymade clothes, the market is also home to stores selling accessories like sequins, buttons, lace, and stones to add an Arabic flair to your clothing. Don't forget to hone your negotiation skills and haggle for the best prices, making it one of the best souks in Dubai.
Located in the bustling area of Bur Dubai, Meena Bazaar is a must-visit shopping district. It features an array of quaint shops offering a diverse range of items, from handicrafts to textiles. Meena Bazaar is particularly popular among shopaholics seeking trinkets, accessories, and unique pieces of jewelry. Take a break from shopping and satisfy your cravings at the various (mostly Indian) restaurants and street food stalls available at affordable prices. Meena Bazaar is conveniently situated near Khalid Bin Waleed Street in Bur Dubai.
Karama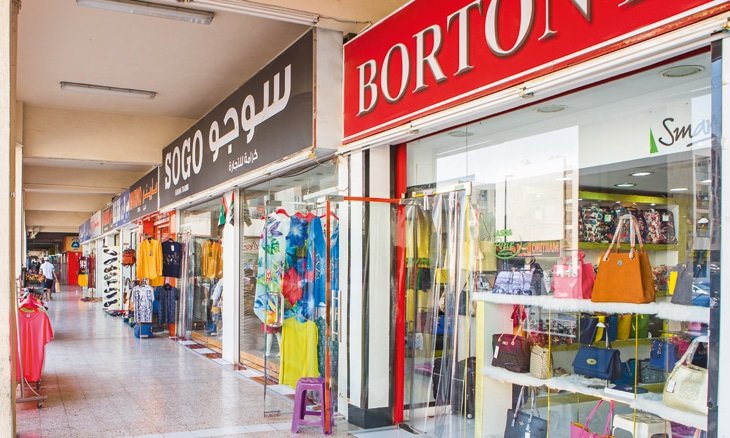 Dubai's Karama district offers over 300 shops with a variety of affordable fashion products.
Karama Market is a popular destination for a wide range of fashion products and accessories. They offer handbags, wallets, belts, scarves, and various fashion accessories in a variety of sizes and colors. If you're interested in artificial fashion jewelry, this market won't disappoint. It's also a great place to practice your bargaining skills, as shopkeepers often agree to prices significantly lower than the original asking price. Enjoy the experience of haggling and potentially getting products for almost half the price!
Karama Centre is another recommended spot in Dubai's Karama district to showcase your bargaining skills while shopping for fashion accessories. It's a haven for budget-conscious shoppers seeking gifts, souvenirs, electronics, cosmetics, mobile accessories, and artificial jewelry. This shopping center offers a traditional souk-like experience, making it ideal for expats looking to buy small trinkets for their relatives. Conveniently, there is ample parking available behind the building for those visiting by car.
Deira
Dubai is renowned for its glamorous malls, but its vibrant and bustling old souks hold an equally special place in the hearts of residents and tourists. These traditional markets in Dubai are treasure troves of unique items and hidden gems, often available at unbeatable prices. Among the most popular souks is the Deira Gold Souk, the world's largest gold market boasting over 300 shops.
Located in the scenic Deira Islands, Souq Al Marfa is a sprawling 1.9-km wholesale market. Developed by DP World and Nakheel Malls, this fully air-conditioned indoor shopping destination offers a diverse range of products, including clothing, electronics, and carpets. The market comprises small kiosks, showrooms, retail stores, and street food markets, catering to the needs of both traders and shoppers.
Jumeirah
Jumeirah, a highly sought-after residential district in Dubai, offers an appealing lifestyle and a range of amenities that make it an attractive choice for those considering a move to the city. With its beachfront location, impressive architecture, and well-designed properties, residents and visitors alike are captivated by its charm. In addition, Jumeirah's shopping malls enhance the area's allure, providing ample opportunities for enjoyable retail therapy. Read more on the shopping malls in Jumeirah