Luxury Yacht Hire for One or Two Hours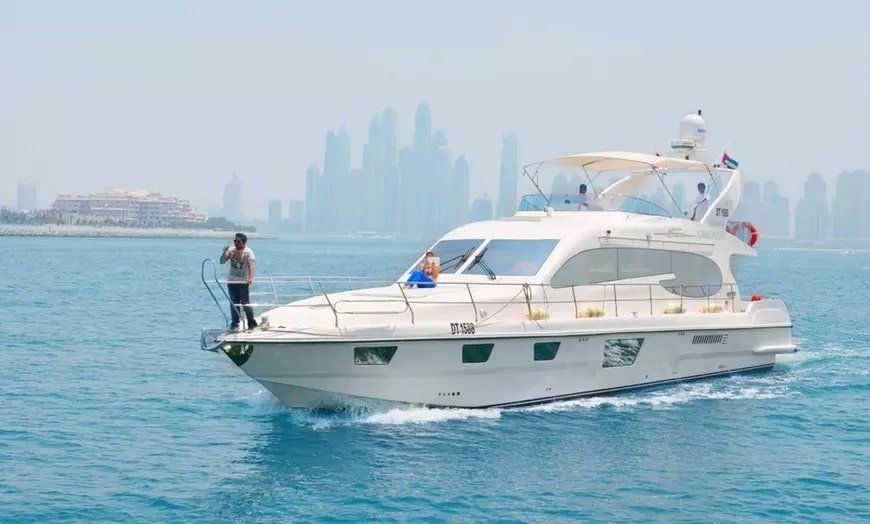 Highlights
Up to 48 people can enjoy a cruise or a party with firends and family with luxury yacht hire for one or two hours
About This Deal
What's included: luxury yacht hire
Types of yachts available:

44-foot yacht for up to 7 people
52-foot yacht for up to 10 people
60-foot yacht for up to 12 people
80-foot yacht for up to 24 people

Duration: one or two hours

Extra hours added to the trip are payable to the merchant directly
Fine Print
Expires 90 days after purchase. Limit 2 per up to 48 people, may buy 2 additional as gifts. Mandatory online booking required. Prior booking/cancellation (subject to availability) at least 48 hours in advance. Printed voucher must be presented. Extra hours added to the trip are payable to the merchant directly. Passengers should be at the location 30 minutes before the trip. Each passenger must present a valid identity card (passport, labour card, Emirates ID or driver's license) for coast guard policy. A child is counted as 1 person. The trip might be rescheduled due to weather conditions, mechanical failure or unforeseen circumstances. Due to covid, only 50% capacity allowed. Please check location of each yachts – 50 ft yacht location in Dubai marina walk spinneys, 44 ft yacht location in West marina /Al Raheem mosque, 60 ft Dubai marina walk spinneys and 80 ft in West marina, Near Al Raheem mosque. Contact merchant for capacity restrictions during covid. Valid for option purchased only. Groupon prices are inclusive of VAT where applicable.
This deal is offered by Groupon
DMI Yachts offers an array of private yacht rentals in Dubai with the additional bonus of clear water bodies, the ruins of ancient cultures and vibrant nightlife. Customers can take their friends and family on an experience of a lifetime, and revel in the sandy beaches of the bays. DMI Yachts also offers guided cruises as well as watersports activities.
Location
Dubai marina walk Next to spinneys
Show less