Indulge in a crispy paradise of flavors with Dubai's finest fried chicken deals! From the iconic finger-licking goodness of KFC and the delectable offerings of Jollibee to the tantalizing options at SFC Plus, Dubai presents a mouthwatering assortment of fried chicken delights that's sure to satisfy every craving.
KFC
Get the Crunchers from AED 9.
More deals include:
Salsa Firestorm Burger + Fries + Drink for AED 38.
Lay's Chicken Combo | 8 Pcs Lay's Chicken | Family Fries | Large Coleslaw | 500mL Drink | Price: 79 AED
Dynamite Burger Twist | Dynamite Burger | Twister | Fries | Drink | Price: 24 AED
Super 30 | 15 Chicken Pieces | 15 Strips | Family Fries | Buns | Price: 99 AED (44% OFF from 177.50 AED)
24 PCs Double Bucket | 12 Pcs Chicken – Original | 12 Pcs Chicken Spicy | Family Fries | Coleslaw Salad | Price: 135 AED (25% OFF from 180 AED)
Visit our KFC Page for more details>>
---
Jollibee
Rise and shine with Jollibee's Breakfast Specials for AED 19.
Visit our Jollibee Page for more offers>>
---
Chikex
Enjoy the Summer meal for AED 39. Meal consists of 6 Pcs Fried Chicken, 6 Pcs Strips, 2 Fries, 2 Coleslaw, 4 Garlic paste, 4 Buns and 1 Ltr drink. Visit website>>
---
Marrybrown
Most popular meals. Click here to order>>
---
Popeyes
Enjoy the Boneless Bites Meal (12 Boneless Bites, 1 Cajun Fries, 1 Biscuit, 2 Dips, 1 Regular Drink) for 32 AED.
Visit our Popeyes Page for more deals>>
---
Texas Chicken
Enjoy the Mega Tex deal for AED 49, Crunch Tex deal for AED 25 and Legendary Family Meal for AED 79.
Visit Our Texas Chicken page for more deals>>
---
SFC Plus
Buy the Ultimate Big Box Combos at SFC plus starting from AED 35. Call 600566004 to order.
Visit our SFC page for more deals>>
---
Taza
Enjoy the Broast Combo for AED 29 . Call 600 541 000 or order online for home delivery.

---
Crispy Chicken
Your daily dose comes in 4 pieces chicken combo with side fries, garlic and bun Only for 16 AED. Order now or check more offers>>
---
Chicking
Enjoy the Duo delights from Chicking. View below image for more details.
Visit our Chicking page for more deals>>
---
JJ Chicken
Enjoy 3 sandwiches plus fries and cheese rolls for AED 59 at JJ Chicken outlets! Click here to place your order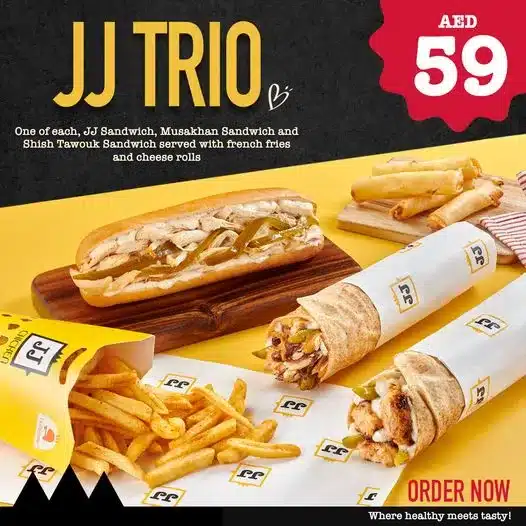 View below image to view the JJ Chicken Menu. Call 600 54 55 54 to place your order.
---
Visit our Nando's page for more deals>>
---
Al Baik
Enjoy the DOUBLE BAIK Sandwich Extravaganza! Imagine indulging in the most mouthwatering double layers of tender chicken, oozy layers of rich cheese, all smothered in delicious secret sauce – and it's yours for just 9 AED!
Download Al Baik app to place your order or call 800244 2245
Buffalo Wild Wings
Lunchtimes just got tastier with this super offer! Now available at all Buffalo Wild Wings branches.