Dubai is a great place for outdoor cycling and as the Winter season sets in, Residents are opting cycling for fun and fitness. We have for you the best Bicycle shops so you can zero in on specific model of your choice.
Wolfi's Bike Shop
Wolfi's is the largest cycle shop in Dubai. You can get your bike fitted as per your requirements.
Brands at Wolfi's include Scott, Storck Bicycles, Colnago, Cervelo, Time, Santa Cruz, Lightweight, Ventum and Hornit. The types of bikes available include road, triathlon, mountain, fat bikes, trekking and hybrid bikes, women, kids, gravel bikes and E-bikes.
Location: Sheikh Zayed Road (between interchange 2 & 3), Al Qouz 4, Dubai
Contact: +971-4-339-4453
Trek Bicycle Store
Trek offers mountain bikes, off-road bikes, fitness bikes, dual sports bikes and kid's bikes at Trek. Moreover, the Precision Fit program is the perfect first step for those interested in improving their cycling skills. Trek is also the world leader in mountain bike technology. Not many bike brands offer this level of performance and versatility.
Location Details
Shop 1: Reemas Building, Al Quoz 1, Sheikh Zayed Road Dubai | Contact: +971-4-321-1132 | Timings: Saturday to Thursday from 10:00 am to 08:00 pm | Friday 02:00 pm to 08:00 pm
Shop 2: Al Qudra Cycle Course, Al Qudra Road, Seih Al Salam, Dubai | Contact: +971-4-832-7377 | Timings: Saturday to Friday 06:00 am to 10:00 pm
Revolution Cycles
This shop offers BH bikes, Endurance bikes, Racing bikes, Altitude bikes, 795 Blade RS and Aero Bikes. They offer bike servicing as well. Besides bikes, you will find high-end bike components and accessories at Revolution Cycles Dubai.
Location: 5 Apex Atrium Motor City, Dubai Motor City, Dubai
Contact: +971-4-369-7441
Dubai Bicycles
Dubai Bicycles offers a wide range of bikes including BMX Bikes, kids' bikes, folding bikes, freestyle bikes, ladies' bikes, MTB bikes, industrial bikes, racing bikes, suspension bike and E-bikes.
Location: +971-4-223-7397
Contact: Al-Budoor Building, 3rd Floor, Room No. 13, Al Baniyas Square, Deira, Dubai
Bike Shop
Bike shop offers brands like Merida, Raleigh, Upland, Viva and Alpha Bikes; hence, the newest models arrive here first.
You will find some cheap bike deals on mountain bikes, city bikes, kids' bikes and road bikes. So, regardless of the type of bike you want to buy, Bike Shop Dubai could be a good place to start your search.
Location Details:
Shop 1: Unit 2006, 20th floor, Al Ameri Tower, Al Barsha Heights, Dubai | Contact: +971-55- 287-56506 | Timings: Saturday to Thursday from 10:30 am to 10:00 pm | Friday 11:30 am to 09:00 pm
Shop 2: R21, Behind Executive Bay, Al A'amal Street, Business Bay, Dubai | Contact: +971-58-297-9780 | Timings: Saturday to Thursday: 10:30 am to 08:00 pm
Shard Bikes
Shard Bike is one of the top bike shops in Dubai. At Shard bikes, you can find kids bikes, road bikes, mountain bikes, folding bikes and electric bikes.
Location: Shop A15, Dragon Mart 6, Dubai
Contact: 055-7324185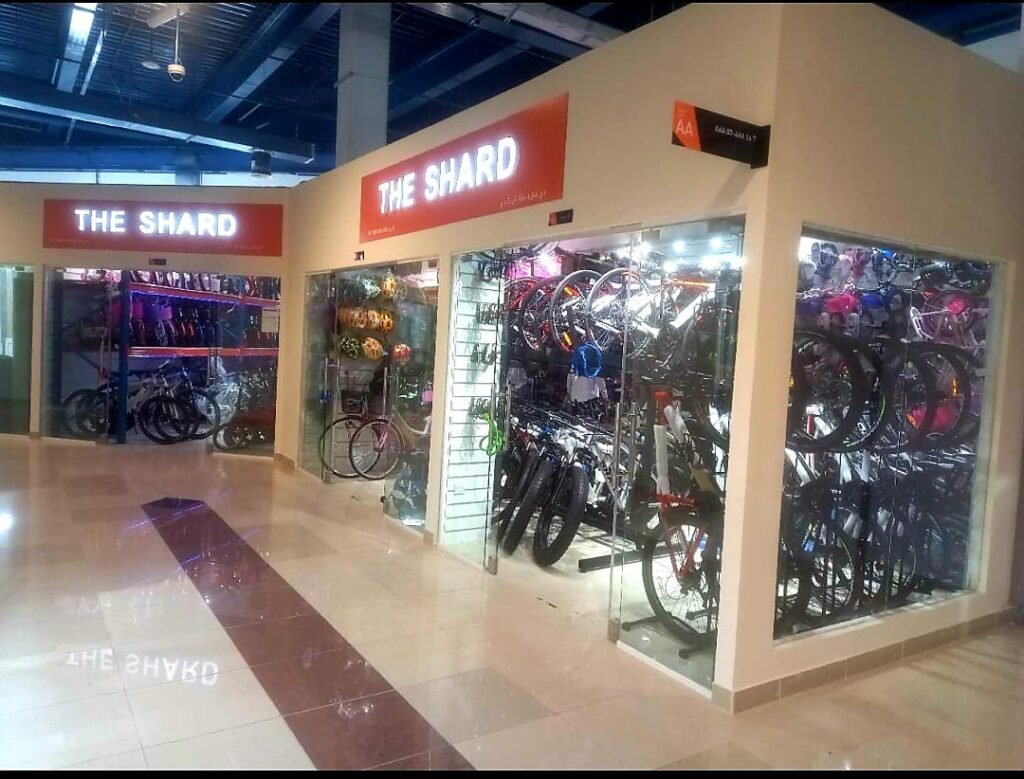 The Cycle Hub
This store offers Specialised, S-Work, Pinarello, De Rosa and Pure Cycles. Moreover, the availability of top accessories brands is an added plus. For people looking to take up cycling, the Retul Fit program is ideal. A trained specialist will assess your body strength and flexibility as well as your cycling goals before recommending the best equipment. You can also get answers to your questions and guidance on how to get the most out of your ride.
Timings: Sunday, Monday, Tuesday and Thursday: 08:00 am to 08:00 pm | Wednesday: 08:00 am to 09:00 pm | Friday and Saturday: 08:00 am to 06:00 pm
Location: The Cycle Hub, Unit 6B, Dubai Autodrome, Motor City, UAE
Contact: +971-4-425-6555
ODB Bike – Online Dubai Bicycles
ODB Bike – Online Dubai Bicycles is one of the best bicycle store at Business Bay selling road bikes, city bikes, kids bicycles and women bicycles. Click here to shop online