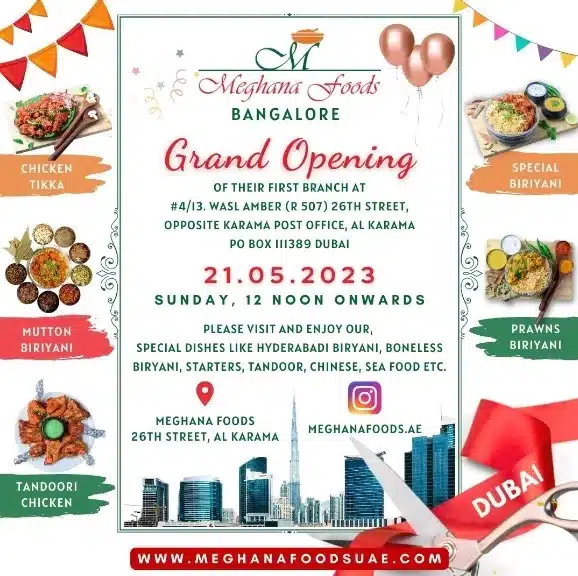 In an exciting development for food enthusiasts in Dubai, Meghana Foods, a renowned biryani destination from Bangalore, has opened its doors in the vibrant neighborhood of Karama. Biryani lovers can now indulge in the flavorsome and aromatic delights offered by Meghana Foods, which has already won the hearts of many in Bangalore.
Savoring the True Essence of Hyderabadi Cuisine: Meghana Foods is synonymous with authentic Hyderabadi cuisine, and their menu reflects this rich culinary heritage. With meticulous attention to detail, the menu offers a wide range of options for both vegetarians and non-vegetarians. Each dish has been carefully curated to capture the essence of the region and cater to the discerning taste buds of Dubai's diverse population.
The Meghana Foods Journey: Founded in 2006 in Koramangala, Bengaluru, the bran has become a household name renowned for its Andhra-style cuisine. With a focus on using quality ingredients and a deep passion for their craft, the restaurant has consistently delivered authentic flavors to their loyal patrons. Now, the brand is ready to recreate that magic in Dubai, promising an unforgettable culinary experience for all.
Location : Oppossite Karama Post Office
Tel :  +971 44339894