Zoo and Learning Centre Entry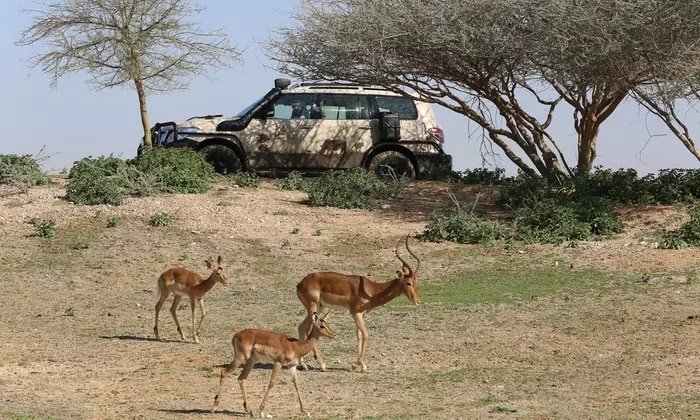 Highlights
Children and adults can enjoy a fun day at the zoo with packages including entry, learning centre visit and a truck or 4×4 safari
Choose from Six Options
AED 8 for SZ Desert Learning Centre and zoo entry for one child
AED 25 for SZ Desert Learning Centre and zoo entry for one adult
AED 50 for SZ Desert Learning Centre and zoo entry for two adults
AED 165 for SZ Desert Learning Centre and zoo entry with a truck safari for one adult
AED 325 for SZ Desert Learning Centre and zoo entry with a truck safari for two adults
AED 839 for SZ Desert Learning Centre and zoo entry with a 4×4 safari for up to six people
Group truck safari tour:
The truck can take up to 24 people
Children under the age of five cannot be accommodated due to safety reasons
Private 4×4 safari tour:
Each 4×4 SUV tour can take up to six people with a tour guide
Children under the age of three need to be placed in a baby car seat; these are provided on a first come, first serve basis
Terms & Conditions
Expires 90 days after purchase.
Limit 3 per 1, 2 or up to 6 people, may buy 3 additional as gifts.
Booking required for safari by phone or email, contact 800966 or sales@alinzoo.ae.
Prior booking/cancellation (subject to availability) at least 24 hours in advance.
Regular entrance does not require booking.
Under 16s must be accompanied by an adult.
Zoo and tour timings can change due to weather conditions.
Not valid on public holidays.
Customers with special requirements should contact the merchant directly prior to visit.
Groupon prices are inclusive of VAT where applicable.
Valid on option purchased only.
Zoo open 9am-8pm Sun-Wed and 9am-9pm Thu-Sat. Printed voucher must be presented.
This deal is offered by Groupon
Founded in 1968 by Sheikh Zayed, Al Ain Zoo strives to serve as a fun destination for all ages, providing entertainment and educational experiences in a natural outdoor environment.
Guests can also enjoy a choice of safaris giving an opportunity to encounter large animals like lions, rhinos and giraffes, as well as smaller yet no less intriguing species like meerkats, dama gazelles and crowned cranes.
Phone: +971 800 966
Website: https://www.alainzoo.ae/
Timings: 3 PM – 10 PM
Address: Nahyan The First St – Shiab Al Ashkhar – Abu Dhabi